Dr. Sharon Elizur-Schlesinger
8.31.17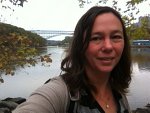 Working to improve disease resistance in livestock
Dr. Sharon Elizur-Schlesinger is a lecturer in the Department of Animal Sciences. She pursued her postdoctoral research at Columbia University's Howard Hughes Medical Institute and is developing expertise in the field of stem cell research. Thus far, she has published four first-author papers.
Dr. Elizur-Schlesinger completed all three of her academic degrees at the Hebrew University. Two world-renowned researchers from the Faculty of Medicine, Professor Howard Cedar and Professor Yehudit Bergman, both experts in the field of cancer epigenetics, supervised her Ph.D. She further researched stem cells in the laboratory of HU's Professor Eran Meshorer.
Dr. Elizur-Schlesinger is researching reproduction in domestic animals with the goal of generating true pluripotent embryonic stem cells from bovine and other domesticated animals. Such cells, she says, can be employed towards "the establishment of an efficient animal cloning technology, using the procedure of embryonic cells nuclear transfer (ECNT)." This research is designed to improve the breeding of transgenic livestock with higher levels of productivity and improved disease resistance.