Hebrew university updates
Prof. Eli Keshet is to be awarded the Israel Prize in life sciences this year for his contributions to the development of treatments for a wide range of diseases, Education Minister Yoav Gallant announced on Thursday. Keshet, a professor of molecular biology at the Hebrew University of
Read More
At the Hebrew University, tradition is our innovation. HU is home to 25,000 students and 1,300 researchers across 6 campuses and 7 faculties. Faculty and alumni have received 484 awards for excellence, including 8 Nobel Prizes in chemistry, physics, and economics. HU's 3,400+ research projects represent 30% of all Israeli academic scientific research with 10,750+ registered patents covering 2,800 inventions and 900+ licensed technologies launching 170 spin-off companies.
Strategic partnerships are the foundation for tackling the world's greatest challenges. The Hebrew University, a global research powerhouse, collaborates with other world-class academic and cultural institutions to address global needs in the areas of health and medicine, cybersecurity, and diplomacy to name a few. At the core of these critical alliances are beliefs deeply rooted in the notion that knowledge moves us toward a brighter future.
Founded by visionaries. Propelled forward by innovation.
The Hebrew University of Jerusalem is one of the world's most distinguished academic and research institutions. The university is located in Israel, but its work transforms our global landscape. Its students, faculty, and alumni have won eight Nobel Prizes, developed treatments for diseases, and ignited innovation that has led to more than 10,750 patents. We think our founding fathers, Albert Einstein, Sigmund Freud, Chaim Weizmann, and Martin Buber would be quite proud.
HEBREW UNIVERSITY FACULTIES AND SCHOOLS
The Smith Faculty has developed groundbreaking innovations such as irrigation technologies, soil solarization, and long shelf life vegetables. Students take courses in agricultural biotechnology, soil and water sciences, hotel, food and tourism management, and more.
The Faculty of Humanities focuses on the scope of human civilization in the past and present, as expressed in language, literature, the visual and performing arts, culture, folklore, philosophy, religion, and history.
The Faculty encompasses the School of Pharmacy, School of Occupational Therapy, School of Public Health, School of Nursing, and two research institutes.
This Faculty is an Israeli leader in the research and teaching of basic and applied science. It encompasses leading academics in the fields of Mathematics, Physics, Chemistry, Life Sciences, and Earth Sciences. The Faculty also incorporates cutting-edge research institutes including: Nanoscience and Nanotechnology, Marine Biogeochemistry, and more.
Founded in 1953 by the Alpha Omega International Dental Fraternity. The Faculty is Israel's first dental school and is the leading center for dental education, clinical care, research, product/technology development, and community outreach.
The Faculty houses nine undergraduate academic units: Communication and Journalism, Economics, Geography, International Relations, Political Science, PPE: Philosophy, Political Science and Economics, Psychology, Sociology and Anthropology, and Statistics (with a focus on Data Science) and unique graduate programs, such as The Federmann School of Public Policy and Government, Environmental Planning and Policy, Gender Studies, Conflict Research, Management, and Resolution, International Law and Conflict Resolution, European Studies, Contemporary German Studies: Politics, Society and Culture, and Glocal: Community Development Studies.
The Faculty is Israel's first law school and is the cornerstone of Israel's legal research and education. It is home to the Minerva Center for Human Rights, the Center for the Study of Multiculturalism and Diversity, the Institute of Criminology, and the Israel Matz Institute for Jewish Law.
Attracts more than 2,000 students annually from over 80 countries to its diverse undergraduate and graduate degree exchange programs.
Consists of the study of environmental policy and resource management. Students learn to be adaptive to the capacity of the populations, and learn tools to rationally evaluate technological solutions for environmental issues.
Seeks to develop a new generation of professional civil servants who will provide the state of Israel–and the Israeli society–with stability and growth.
Israel's first and only veterinary school and the only facility of its kind in the Middle East. The School builds bridges to peace through animal care, shares medical knowledge, and offers joint research projects with countries around the world.
A leader in academic instruction, training, and research. Faculty members advance new ways of thinking about education by using an interdisciplinary approach while accounting for today's social and cultural challenges.
ELSC is Israel's foremost institute for brain research and is at the forefront of revolutionizing neuroscience. With a strong emphasis on interdisciplinary collaboration, researchers combine theoretical, biological, and cognitive approaches to better understand the inner workings of our minds, and pursue answers to help to alleviate Alzheimer's and Parkinson's symptoms, develop sensory substitution devices for the visually-impaired, and more.
A globally recognized leader in training pharmacists and conducting basic research in drug science. The School trains students for professional practice in the pharmaceutical industry, providing them with a scientific and professional basis. It also offers higher education in pharmacology, medicinal chemistry, and pharmaceutical sciences, as well as a doctoral degree in Clinical Pharmacy.
The Braun School works to improve the physical, mental, and social welfare of the global community with a commitment to excellence in multidisciplinary and interdisciplinary public health research, training, and practice. Since 1961, the Braun School is dedicated to advancing public health knowledge in Israel and worldwide, and inspire personal, professional, and political commitment toward 'Tikun Olam,' a Jewish adage that connotes social action and the pursuit of social justice, equity, and health.
The scool endeavors to further social justice and the personal and social well-being of individuals through path-breaking research and the development of social services and policies for individuals, families, groups, organizations, and communities in Israel and across the globe.
Maintains world-renowned excellence in research and is at the forefront of the technological revolution, with strength in Applied Physics and Biomedical Engineering. The School has a substantial impact on the high-tech industry in Israel.
Israel's first graduate school in the humanities, the School fosters a dynamic and vibrant academic community, prioritizing intellectual interaction, and placing Jewish Studies within the broader fabric of Western and Eastern cultures.
Israel's premier academic business school, playing a central role in shaping the Start-Up Nation's business and management leadership ecosystem.
The Hebrew University of Jerusalem (HU) was born from an idea proposed in 1913 by Chaim Weizmann. His enthusiasm for the project was shared by other visionaries at the time, among them Albert Einstein, Martin Buber, and Sigmund Freud. Three years after the symbolic foundation stones were laid on Mount Scopus in 1918, Weizmann and Einstein set out across the U.S. to promote and raise funds for the university. Seven years later, on April 1, 1925, HU opened its doors.
Since its inception, outstanding leaders have propelled the university's growth and excellence. HU's award-winning faculty includes Nobel laureates, Israel Prize winners, a Fields Medalist, members of the Academy of Arts and Sciences, leading scientists, academics, authors, and policy makers. Distinguished alumni include Israeli Prime Ministers, two female Supreme Court Presidents, as well as 25% of Knesset members, and two-thirds of Israel's Supreme Court Justices. For over nine decades, Israel has relied on HU for leadership in every sphere and for its unwavering and unparalleled commitment to excellence, multiculturalism, pluralism, and the cause of peace.
1913
The 11th Zionist Congress passes a motion in favor of the establishment of the Hebrew University of Jerusalem
1918
The Hebrew University of Jerusalem is founded on Mount Scopus; cornerstone laid
1925
Gala opening of the Hebrew University of Jerusalem
1931
HU awards its first degrees, the Master of Arts, to 13 graduates
1935
The Hebrew University issues certificates enabling young European Jewish refugees to enter the country and study in Jerusalem; Faculty of Science established, with Chaim Weizmann appointed dean
1936
First doctoral degrees conferred
1939
The pre-Faculty of Medicine opens and includes Departments of Parasitology, Bacteriology, and Hygiene
1940
The entire ridge of Mount Scopus overlooking the Old City is earmarked for the Hebrew University of Jerusalem
1941
The School of Agriculture opens on the Rehovot campus
1947
The Hebrew University grows to be a large, well-established research and teaching institution encompassing several new Faculties, as well as the Jewish National and University Library, a university press, and an Adult Education Center
1948
The provisional Israeli government recognizes the Hebrew University as a "central scientific institution of the State of Israel"
1949
The new Faculty of Medicine officially opens; Faculty of Law, Hebrew University Hadassah Medical School, and Adult Education Center are established
1952
The first M.D. degrees are awarded to students who had begun their training abroad
1958
Dedication of the Givat Ram campus (eventually named the Edmond J. Safra Campus at Givat Ram)
1961
The Hebrew University-Hadassah Medical Center in Ein Kerem opens
1964
Yissum Research Development Company established to patent university research and technology and to promote university partnerships with industry
1967
The number of faculties and schools is greatly expanded; enrollment exceeds 12,500; temporarily relocated, HU is slated to return to its original home on Mount Scopus following the reunification of Jerusalem in the Six-Day War
1968
The Harry S. Truman Institute for the Advancement of Peace is established on the Mount Scopus campus. The Truman Institute was the first and remains the largest research center in Israel and the Middle East to examine conflict resolution and propose peaceful solutions for the region
1972
The Faculty of Medicine expands with the addition of the Henrietta Szold-Hadassah-Hebrew University School of Nursing and the Hadassah-Hebrew University School of Occupational Therapy
1981
HU continues to grow, with the addition of new buildings, establishment of new programs, and recruitment of outstanding scholars, researchers, and students
1985
Opening of the Koret School of Veterinary Medicine
1997
The D. Walter Cohen Center for Dental Education in the Middle East is created to bring together dentists from the region to engage in joint research projects and learn their colleagues' respective techniques
1998
The School for Overseas Students is renamed the Rothberg International School
2000
HU's Givat Ram campus is named the Edmond J. Safra Campus, in honor of the leading philanthropist and founder of the Republic National Bank of New York
2002
Daniel Kahneman, a professor at Princeton University and a fellow of HU's Center for the Study of Rationality and Interactive Decision Theory, is the co-winner of the Nobel Prize in Economic Sciences
2004
Three HU graduates become Nobel Prize laureates in Physics and Chemistry
2005
Robert J. Aumann, professor emeritus at HU's Center for Rationality and a faculty member for five decades, is the co- recipient of the 2005 Nobel Prize in Economic Sciences for his groundbreaking work in game theory
2006
Roger Kornberg of Stanford University, a visiting professor at HU's Department of Biological Chemistry for the past 20 years, wins the Nobel Prize in Chemistry for his studies of the molecular basis of eukaryotic transcription
2008
The 90th anniversary of the Hebrew University's cornerstone laying
2009
Edmond and Lily Safra Center for Brain Sciences (ELSC) established
2011
Establishment of the Jack, Joseph, and Morton Mandel School for Advanced Studies in the Humanities
2013
Groundbreaking for the Suzanne and Charles Goodman Brain Sciences Building
2014
Dedication of the Rothberg Family Buildings housing the Benin School of Engineering and Computer Science
2015
Hebrew University celebrates its 90th anniversary, the 50th anniversary of the Harry S. Truman Research Institute for the Advancement of Peace and the 100th Anniversary of Albert Einstein's Theory of Relativity, the start of the new building housing the Jack, Joseph, and Morton School for Advanced Studies in the Humanities, and partnership launch with Cleveland Clinic for Center for Transformative Nanomedicine
2018
Hebrew University and global Friends groups celebrate the centennial anniversary of laying the university's cornerstones by launching HU's first Global Giving Day.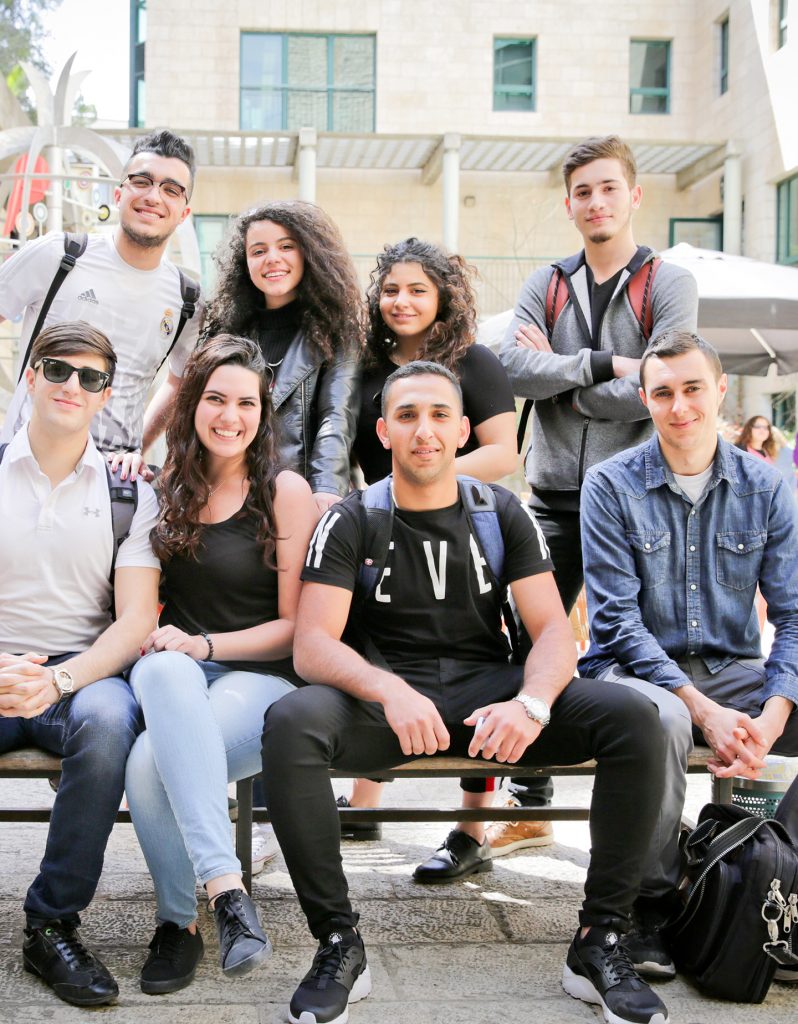 Visit our campus. Meet our people.
Reading about the Hebrew University of Jerusalem is great. Visiting the university is unforgettable. Past experiences have included group tours, private tours, and meet and greets with outstanding faculty and students. Contact your local AFHU office to get started.
A Tradition of Innovation - Hebrew University's Seven-Year Capital Campaign
In the coming decades, Hebrew University will continue to innovate across a wide breadth of disciplines to address the challenges that face humanity. From medical breakthroughs and sustainable urban planning to streamlining financial systems and harnessing the power of quantum science, the sky's the limit —and with your help, we're pushing the boundaries of what's possible.
Producing unparalleled excellence in research, teaching and academia, Hebrew University scholars have achieved extraordinary breakthroughs in disciplines ranging from agriculture to brain research, from economics to education, and much more.

With over 150 areas of study, Hebrew University hosts students from around the world across its campuses and provides top-level student services. And did we mention a stunning panoramic view of Jerusalem from classroom windows?