Spotlights:
Saranchuluun (Sara) Otgon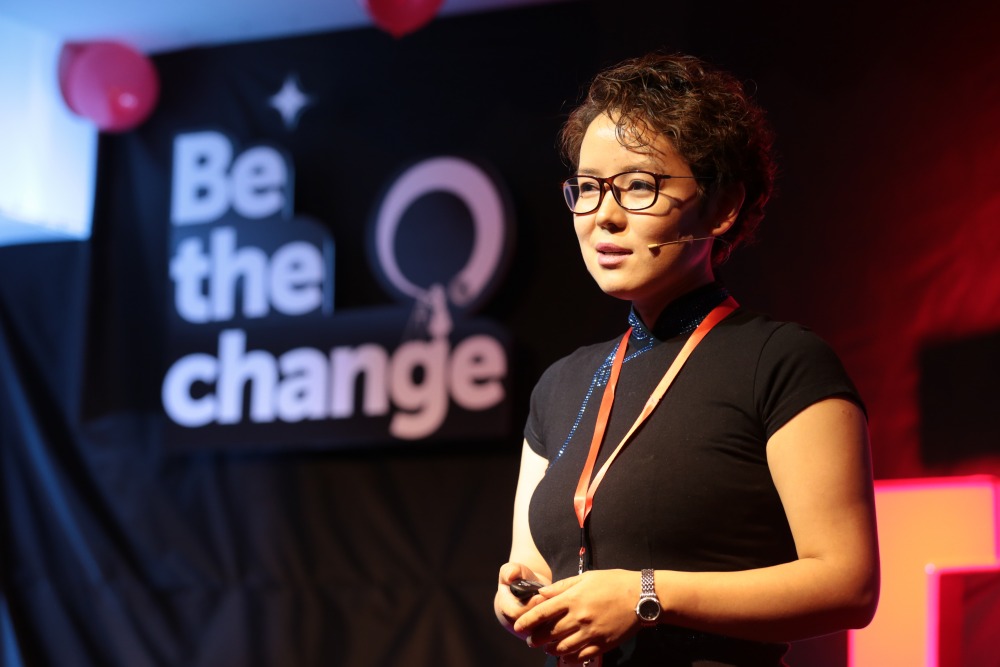 When Sara was 13, she was horseback riding in the Mongolian countryside when she fell and broke her ankle. Without access to a hospital, her grandmother rubbed traditional herbs and hoped for the best. But Sara's condition worsened, and eventually, she headed to the city. She visited a few clinics and hospitals until receiving her diagnosis: bone cancer.
She spent four years in the cancer center, undergoing amputation and chemotherapy. After her recovery, Sara kept her secret under wraps – literally. "In Mongolia, people would associate a disabled body with a disabled mind," she laments. "I always wore long pants, to cover my leg." She eventually earned a bachelor's and master's degrees in social work, hoping to address the psycho-social issues experienced by other cancer patients.
Sara first encountered Hebrew University through graduates of the International Master of Public Health program (IMPH), while teaching at the Mongolian School of Public Health at the National University of Medical Sciences. "They were impressive and confident, truly experts in public health," she recalls. She decided to follow in their footsteps to Jerusalem.
It was her first time outside of Mongolia. Sara arrived at Hebrew University with a Mongolian colleague, who was also her roommate and confidante. She enjoyed the program's diversity, the monthly hikes, and the Shabbat dinners at her professors' houses. Every day, she trudged up the stairs leading from her dormitory to school – without saying a word.
Yet in the summer heat, something went wrong. The prosthetic leg stopped working, and Sara developed a horrible rash. Terrified, she eventually approached the program's Prof. Yehuda Neumark. He was shocked to learn Sara's secret – and immediately found a repair lab. He encouraged her to share her story. Sara began opening up to her classmates, but as the year came to an end, she packed her bags and returned her secret to its hiding place.
In 2013-2014, while on a year-long research fellowship in New York, Sara first encountered Achilles International, a non-profit that encourages people with disabilities to participate in mainstream athletics. Around the same time, some American friends had helped Sara with her prosthesis, obtaining expensive replacement parts and even entering her into a sweepstake, which she won – earning her two brand-new prosthetics: one for walking and one for running. She decided to accept the invitation extended by her Achilles International friends and began training for the New York City Marathon.
In April 2014, after her first marathon, with Prof. Neumark's words still ringing in her ears, Sara decided the time had come. She posted on Facebook, along with a photo (see below): "It feels strange posting a picture of my leg for the first time in my life … I just finished running 5 kilometers in Manhattan. Will you run with me?" Responses started pouring in.
She didn't realize it at the time, but her Facebook post marked the start of two revolutions. First, Mongolians had never seen running as a recreational activity. Some people even asked Sara whether non-handicapped people could run! And second, Sara began changing how Mongolian culture views people with disabilities.
Sara is truly unstoppable. She ran in the New York City Marathon in 2014, and a year later organized the first marathon in Mongolia. She ran in New York again in 2017, and in Berlin in 2019. She founded and heads three NGOs: Achilles Mongolia, Let's Run Mongolia, and Let's Hike Mongolia, which combined have 7,000 members on Facebook.
"Nothing is impossible. Thanks to the IMPH program, I grew strong enough in my heart to challenge Mongolian cultural taboos surrounding physical handicaps."