Spotlights:
Marc Grossman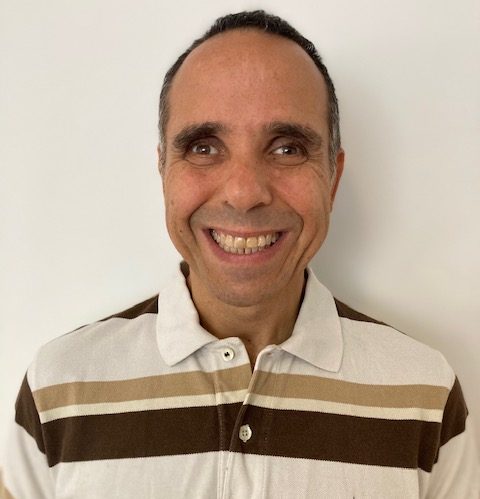 Marc Grossman grew up in Southern California and attended the University of Wisconsin for his undergraduate degree studying English Literature. While there, he wanted to study abroad. During his sophomore year, a good friend (who ended up going with Mark to Hebrew University) said, "Hey, why don't you come with me? Hebrew University is hosting an open house orientation for the One-Year Program."
Growing up, his parents were not particularly involved with Israel, however, he learned a lot through Hebrew school at his local synagogue. At the orientation, Marc saw a video of students mountain biking, repelling down the sides of rocks, river rafting, and going to the Old City.  This was enough to convince the young man that this would be an incredible experience. He thought, "Wow. That looks great. Sign me up."
And so he did. From the summer of 1992 to the spring semester of 1993, Marc and his friend attended the One-Year Program at the Hebrew University. The University of Wisconsin also sent a faculty member to be an advisor at the Hebrew University, who was able to help him and other students from the school navigate through the Rothberg School for Overseas Students. In addition to taking classes at Rothberg, Marc also took courses in the main Hebrew University and thought all the classes were fantastic.
Marc lived in the dorms and started off his time at Hebrew University at the Givat Ram campus, where he took Ulpan for six weeks. He has fond memories of the campus. "It has a different vibe to it, but it was very beautiful. You're within walking distance to a lot of really great things, the Knesset, downtown, Independence Park. And then we would take the bus over to Har Hotzvim for class. The bus rides were an excellent opportunity to learn the geography of one of the world's oldest cities. What they did is they really tried to integrate the overseas student with the regularly matriculated students so that not all the overseas students were in one dorm."
Because of this, Marc met students from all over the world. He said, "One of my best friends from that year was an Argentinian guy, and we're still in touch. It was really cool. There were Israeli Christians and Muslims as well as students from all over the globe. There were also Ethiopians and Russians. For me, it was really exciting because growing up I didn't have a strong bond to the state of Israel, but I got to meet students from diverse places such as Iraq, Iran, Greece, and the Netherlands."
Another highlight of being a student at the Rothberg School for Overseas Students was weekend trips all over Israel. While Marc liked traveling around the country, he also loved what Jerusalem had to offer. Practically every Friday morning, he and his friends would take the bus and go to Machane Yehudah where they'd stock up on fresh vegetables, prepared foods, pita, and hummus. Sometimes, Mark would go to the pedestrian mall on Ben Yehuda Street with friends and enjoy listening to musicians play and people dance. He also took in comedy shows, jazz, and film festivals.
Even though Marc has moved several times, he is still in contact with friends from Hebrew University with the help of social media and email. He also frequently attends AFHU and Hebrew University webinars.
The summer between his freshman and my sophomore year at the University of Wisconsin, Marc was diagnosed with retinitis pigmentosa, a hereditary degenerative eye disease. In the back of our eyes, in the retina, we have the rods and the cones, and those are responsible for converting physical light that enters the eye into electronic impulses that our brains interpret. And that's what we "see," aka your vision. Marc believes his retina cells began dying off probably as a teenager, but he wasn't diagnosed until he was 19.
He explains further, "If you can imagine taking a roll of toilet paper and holding them like a pair of binoculars, then you can imagine only being able to see straight ahead but not being able to see anything on your periphery. That's how it started for me, and today, I've lost my central vision as well. In my case, it was more than likely the more common gene defect that's found amongst Ashkenazi families. I lost most of my vision probably around age 28, 29, 30." By that time, Marc already left Southern California, for New York City, where a car wasn't a necessity for transportation.
After Manhattan, Marc and his wife moved to San Francisco and now live in Miami Beach, Florida, with their two children. When asked how he travels around a city that doesn't have much public transportation, he said "Even though the transit is probably not as good, I don't need to get around as much as I used to. With the prevalence of Lyft and Uber, it's totally feasible for me to take one when I need to. The great thing about the work I'm doing now, ([and it's been highlighted by the pandemic), is I can do all my work remotely, so I work from home." Given he doesn't drive, Marc welcomes the opportunities to learn online from HU professors and alumni through webinars.
Mark works in the technology industry as an "accessibility specialist."  He explains, "My computers and mobile phones talk to me and allow me to surf the Internet and participate in the digital lifestyle. I use the keyboard to interact with my computer. And what I do is I work for companies, and I test to make sure that their software works for people using assistive technology."
He continued, "It could be what I use, a screen reading technology. It could be what deaf people use, people that have limited use of their hands, all sorts of people that do not use the computer in a 'traditional' way. I test to make sure that the websites or the software that these big companies are developing is accessible. The companies initiate this. They want to make sure that their software works for all their users. You wouldn't want to purposely restrict people from purchasing things on your website because they can't use their technology to make a purchase, and about 25 to 30% of adults will experience some form of disability at some point in their life."
Studying at HU also allowed Marc to meet family in Israel, exposing him to even more new cultures and traditions. Since his study abroad experience, Marc has frequently visited Israel to visit family. During one visit, they were able to visit Mount Scopus where he showed his wife around, including his favorite spot, the Rothberg Amphitheatre. "I used to take my books and just hang out in the amphitheater and read, appreciating the view. I still had my vision then and the views out to the Dead Sea and that whole valley are just so spectacular." He added, "I always tell my wife and friends; it was one of the greatest years of my life."