Spotlights:
​​Rachael Cerrotti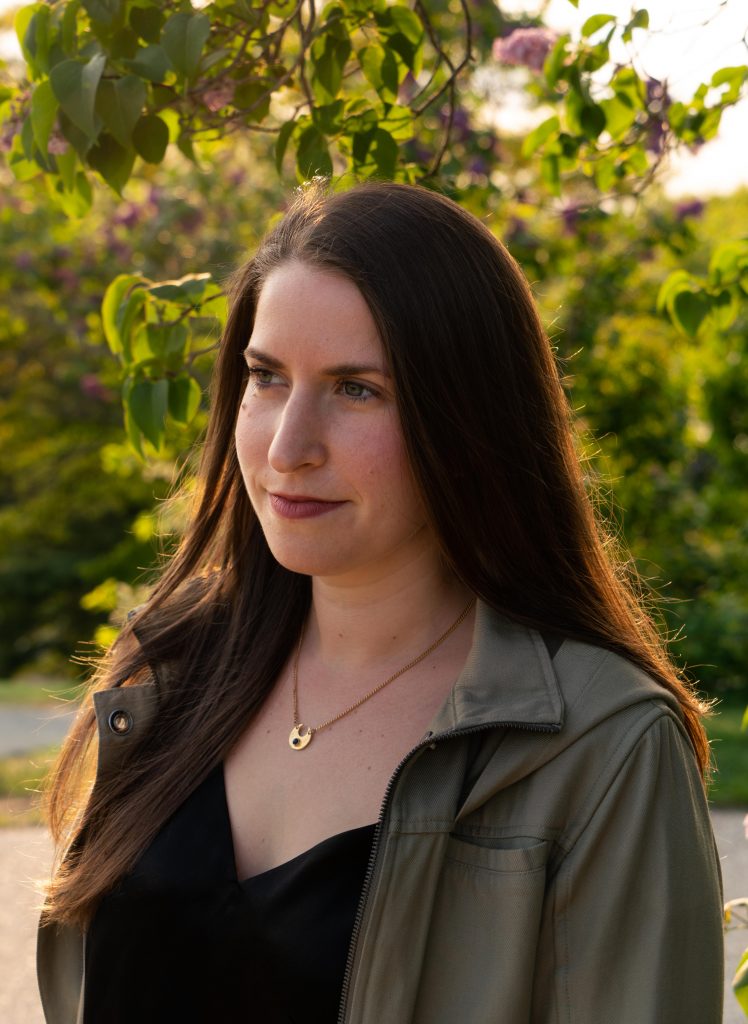 Rachael Cerrotti's career as a documentary storyteller began during her year studying at Hebrew University's Rothberg International School. From 2009-2010, she consumed everything she could with her camera in hand, held her first photojournalism internship, took journalism courses with professors she admired and made friends who to this day are some of the most important people in her life. 
Rachael, now based in Portland, Maine, is an award-winning author, photographer, educator and audio producer as well as the inaugural Storyteller in Residence for USC Shoah Foundation. Her recently released memoir, We Share The Same Sky, is a follow up to her critically-acclaimed podcast by the same name.
"Hebrew University is where I learned to love learning," she said. "It is also where I fell in love — with my career, with history and with the man that would become my husband."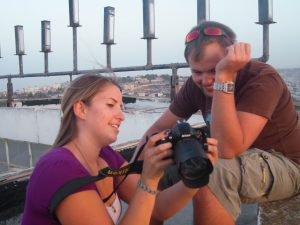 Rachael met Sergiusz Scheller in their first few weeks at Hebrew University. "We were both sitting on the playground outside the student village trying to catch the free wifi," she shared. The two remained just friends until five years later when Rachael moved to Europe to work on a documentary project about her grandmother's Holocaust survival story. It was then that the two began dating. "It was partnership right away and after I completed a year of traveling to pursue this project about my grandmother's story, Sergiusz moved with me to my hometown of Boston and we got married."
Less than a year into their marriage, Sergiusz died suddenly from an undiagnosed heart disease. She was 27 and he was 28. "Some of the very first people to come be by my side during that time were our friends from Hebrew University. And now, five years after Sergiusz's death, those friendships are the ones I lean on and anytime we start talking about how time at Hebrew University, there is nothing but smiles and laughter. It's pure love."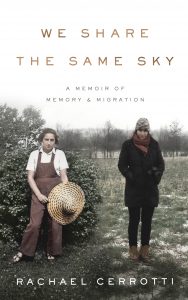 Rachael's recently published memoir as well as her critically-acclaimed podcast are titled We Share The Same Sky. The two pieces of work complement each other and tell the story of Rachael's decade-long journey to retrace her grandmother's story. The narratives weave together past and present — both Rachael's grandmother's story and her own. She is currently on her book tour and part of the story she tells in her memoir is that of her and Sergiusz's time at Hebrew University. She writes: 
"Together, with our university friends, we watched sunsets from the tops of buildings and sunrises from the tops of mountains. We gathered for Shabbat potluck dinners. We traveled to Jordan and Mitzpe Ramon, to the forests in the North and to the desert in the South, to the Dead Sea, and to the West Bank. We played fútbol and Frisbee on the grass and on the beach. We went skinny dipping in the Mediterranean Sea and spent evenings on the roofs of the Old City, overlooking the Western Wall and the Dome of the Rock. We smoked hookah and watched movies dubbed in Hebrew. We showed up at political rallies to expand our minds and laid in the crevices of craters to free them.
We would talk about history and politics and language, trying to outdo each other with memorized facts and lived experiences. Amidst this landscape, loaded with thousands of years of conflict—plagued by centuries of war fought in the name of love and belonging—we just were. In our photos, you can't tell that we all spoke different languages, came from different countries, and were raised in different religions. For many of us, our grandparents were once neighbors. What stood between us and them were decades of displacement." – We Share The Same Sky
Part of Rachael's career has involved taking her documentary work and using it in classrooms as a way to teach Holocaust history through a contemporary narrative. This has included creating her own curriculums as well as working with organizations and institutions such as Facing History & Ourselves, Echoes & Reflections, and IWitness. Her 2019 podcast was produced with the support of the USC Shoah Foundation and was the first-ever narrative podcast based on a Holocaust survivor's testimony. It was also listed as one of the best podcasts of the year by HuffPost. The 7-episode series comes with accompanying curriculums that are now being used in high school classrooms around the world. This past year, Rachael started a new podcast which she co-hosts with oral-historian Stephen D. Smith called The Memory Generation. It is inspired by USC Shoah Foundation's Visual History Archive and digs into what it means to inherit memory. 
"My relationship to my time spent in Israel was nothing short of transformative for me. It inspired me. It gave me tools to learn, to listen, and to be curious. I've never lived with such a diverse group of people as when I was at the international school and in so many ways it prepared for me for a career immersing myself in countries, languages, and cultures that are not my own." 
You can buy Rachael's book and read reviews at www.rachaelcerrotti.com/book and listen to both of her podcasts here: www.sharethesamesky.com/podcast  and www.memorygenerationpodcast.com.