Spotlights:
Michal Palmon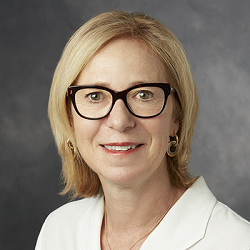 Michal Palmon '92 was born and raised in Jerusalem and grew up less than a mile away from the Hebrew University of Jerusalem (HU). Growing up, Michal said, "My best friends were children of Hebrew University's most famous faculty. I was jealous of them because they all went to the pool on Givat Ram. The pool was open only for students, staff, and faculty families, and I wasn't allowed to go. I knew then that one day I would be able to go."
After serving in the army in the intelligence unit, Michal received her B.S. in statistics at Tel Aviv University. "I was looking for a master's program and a colleague suggested to try the Master's in Public Health (MPH) program at Braun School of Public Health and Community Medicine at Hadassah hospital and Hebrew University." At the time, Michal was already married and lived in Tel Aviv, but decided to apply and attend Hebrew University. Being an HU student entailed driving to and from Tel Aviv to Jerusalem three times a week. Despite the commute, after the first semester she fell in love with the program and stayed 10 years, completing her MPH and unfinished Ph.D. in epidemiology.
While studying at HU, Michal taught statistical programming, statistics, and epidemiology courses in multiple programs in the Faculty of Medicine. Additionally, as a student Michal had several publications and received multiple awards for her master thesis and Ph.D. poster including Outstanding Thesis of the Year by The Israel Institute of Epidemiology, Outstanding M.S. Thesis of the Year by the Hebrew University Medical Faculty, and Outstanding Ph.D. Poster by Hebrew University's School of Public Health.
Michal fondly recalls the quality of her teachers and the close-knit community feel her programs had. "I had the best mentors during my MPH and Ph.D. I loved the program, and the courses were very well taught. We were like a small family. The professors' doors were always open, and you could talk, ask questions, and get help anytime."
In 1999, Michal and her family moved to Palo Alto with her husband's startup. After a few years of raising her three children, she joined Stanford University. She first worked at Neonatology Division of Neonatal and Development Medicine School of Medicine as a research epidemiologist for five years. She then joined the Department of Cardiac Surgery and Heart Center working as a data scientist in the field of congenital heart defects, focusing on pediatric patients. Michal states, "I love the work I do. We conduct research on these kids to learn how to save more lives and how to improve their quality of life. Although I didn't complete my Ph.D., having worked on it for 10 years, I achieved the knowledge and skills I use in my current job."
Michal is excited to be part of Hebrew University again, and happy she can give back to her alma mater as a board member and active volunteer at the Pacific Northwest Region of American Friends of the Hebrew University.