Spotlights:
Ron Lebovits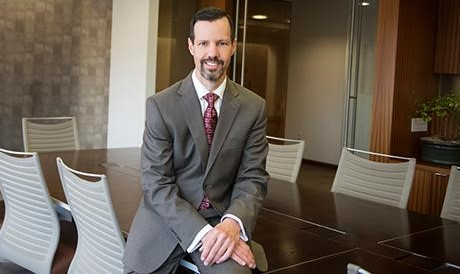 Born and raised in Memphis, Tennessee, Ron Lebovits belonged to a very small Jewish community. Although he knew very little about Israel and Zionism as a young adult, he felt compelled to go to Israel.
During his sophomore year at Memphis State University (MSU), he and his father attended a presentation at the Jewish Student Union about overseas study opportunities in Israel. He listened with intrigue as a recent Hebrew University of Jerusalem (HU) student talked about the One-Year Program at HU's Rothberg International School.
After the presentation, Ron immediately told his father that he wanted to attend HU. His father replied, "I wish I were your age so I could go too!" With the decision made, Ron began planning his next year in Jerusalem with great enthusiasm.
Ron attended HU from 1985-1986. He took courses in history, political science, and international studies, and played basketball and football for recreation. He joined the university's Hiker's Club and immensely enjoyed hiking Israel's deserts with friends. Looking back now at that year, Ron describes it as when he started to become his adult self. Beyond being one of the happiest years of his life, living in Israel was an eye-opening experience that enabled him to learn basic life skills and develop self-confidence and independence. "I remember going away as a helpless boy who couldn't cook a meal and learning how to take care of myself (with, of course, a lot of help from my new friends)."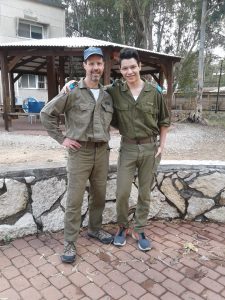 After his year abroad, he returned to MSU, but wished that he were still in Israel. However, soon after his return, he met his future wife at the Jewish Student Union on campus—the same place that served as his launching pad to Hebrew University. Following in his footsteps, his eventual wife, Beth, attended Rothberg's One-Year Program in 1987/1988, and in 1995 the two were married. They now have 4 children.
Over thirty years have passed since Ron attended Hebrew University, but his love of Israel and Hebrew University remain a big part of his and his family's lives. To this day, he and his wife are drawn to the deserts of Israel. Their eldest son, Nissim, attended HU's Rothberg International School in 2018 – 2019. Their younger two sons, Yakir and Matan, have both recently completed Volunteers for Israel.  Their daughter, Chaviva, is making plans to spend a year in Israel between the end of high school and the start of college.
Now a partner at Zarwin Baum in Philadelphia, Ron leads the firm's elder abuse and neglect division. Since 1998, he has represented the victims of nursing home neglect and abuse, and prosecutes civil lawsuits against nursing homes, personal care homes, and other institutions that provide custodial care to care dependent adults. In 2004, he was selected by the Legal Intelligencer and Pennsylvania Law Weekly as a "2004 Lawyer on the Fast Track."