Spotlights:
Denis Braham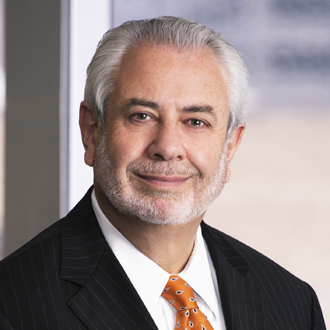 In 1969, Denis Clive Braham, originally from London, England, attended a one-year program at the Institute for Youth Leaders from Abroad (Machon L'Madrichei Chutz La'Aretz) in Katamon, a neighborhood in south-central Jerusalem. While on the program, Denis met his future wife and they both fell in love with Israel. Shortly after the program ended, Denis began his studies at the London School of Economics, (LSE) but felt the gravity of Israel pulling him back.
After marrying his wife, the couple decided to move back to Israel. He transferred from the LSE to the Hebrew University of Jerusalem (HU) to complete his undergraduate degree. He describes it as "one of the seminal experiences of my life."
From 1971-74, Denis studied international relations and political science on the Edmond J. Safra campus on Givat Ram. He found the time at HU to be spectacular, learning from stimulating professors on an amazing campus. While he was a student, his wife worked in HU's Economics and Sociology departments as an English language secretary.  He loved living in Jerusalem and said, "I really grew in so many ways as a young student."
After graduating from HU, Denis received his J.D. from the University of Houston Law Center in 1979.
Denis is now the Chairman Emeritus at Winstead PC Law Firm in Houston, Texas, where he is a member of the firm's Real Estate Development & Investments and Corporate, Securities/Mergers & Acquisitions practices, and co-chairs Winstead's Sports Business & Public Venues Industry Group and the firm's university group.
An attorney since 1979, Denis provides counsel to nationally known professional sports clients including the Dallas Cowboys and the Houston Texans. As a real estate and corporate attorney, he travels extensively for developers, investors, and lenders throughout the country.
Very active in professional and civic activities, Denis credits his time in Israel as his main inspiration. "To this day, my entire community involvement and commitment to many Jewish organizations, Jewish activities, and pro-Israel activities has been shaped by my experiences in Israel from 1969-1974."
Denis dedicates time and involvement in many local, regional, and national activities including: State Bar of Texas, Houston Bar Association, Greater Houston Convention and Visitors Bureau (General Counsel), Jewish Federation of Greater Houston (Former Chair, Board of Trustees), University of Houston Law Foundation (Advisory Board Member), Texas Bowl Foundation (Executive Committee Member), Houston Super Bowl LI Host Committee (Board Member and Lead Counsel), Houston Super Bowl XXXVIII Host Committee (Executive Committee Member and Lead Counsel), and University of Texas Medical School at Houston Advisory Council. He has also been a guest lecturer at Columbia School of Law and at the University of Houston Law Center.
Denis was once again named as one of The Best Lawyers in America® 2019. He has received the same honor for multiple years.