Spotlights:
Ben Azulay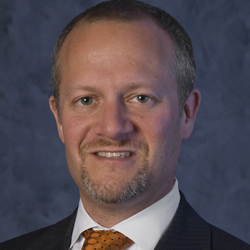 In 1991, Ben Azulay visited his older brother in Israel who was studying at the Hebrew University of Jerusalem. Although his visit was short, it left a lasting impact on him and he fell in love with the university.
He realized, "There was no other place besides HU that I wanted to study. I've always loved Israel and having the opportunity to spend a year in Israel, specifically Jerusalem, was something I could not pass up." Three years later during his junior year in college, he joined 700-plus U.S. international students at the Hebrew University from 1994-1995.
Ben reflects on his year in Jerusalem as an incredible cultural and personal learning experience. "It was a tremendous year that allowed to me to learn about how Israelis live day to day. It also allowed me to travel quite a bit and learn more about myself and what I wanted to achieve in life."
Today, Ben is a commercial real estate broker at Bradford Allen. Since joining the company as an associate in 2004, Ben has made significant contributions to the firm and in 2015, became a Principal at the company.
Ben handles various projects across the real estate spectrum, enabling him to cultivate a multi-faceted knowledge of the industry. A few of his successful transactions include assisting GrubHub in completing a substantial expansion, in which they nearly doubled the size of their office space; securing over fifty office spaces across the country for MedSpeed; and representing Foley and Mansfield, a national law firm based in Minneapolis, Minnesota, where he assisted them in a sizable relocation and expansion. Ben works with clients across industries including, but not limited to, marketing and advertising, law, healthcare, and technology.
As a member of the leadership team at Bradford Allen, Ben plays an integral role in the strategic direction of the company. He regularly contributes to the firm's research and recruiting efforts, and he mentors new brokers along with overseeing his own team.
In 2017, Crain's Chicago Business named Ben as one of the most influential commercial real estate brokers.
Ben lives in Lincoln Park with his wife and four children. He's a supporter of American Friends of the Hebrew University and still remains in touch with many of his friends from Hebrew University and Israel. Reminiscing on his time at HU Ben said, "It was one of the highlights of my life."