Given the current situation in the Middle East, Israel needs us now more than ever. Amidst these turbulent times, the Hebrew University of Jerusalem stands as a beacon of hope, offering students a world-class education and enabling economic and social mobility for young people from all walks of life.
Your participation in our events provides much needed support for the Hebrew University community and ensures that vital research and teaching continues, even during the darkest of days.
Together, we can make a positive difference and secure a brighter future for Israel and its people.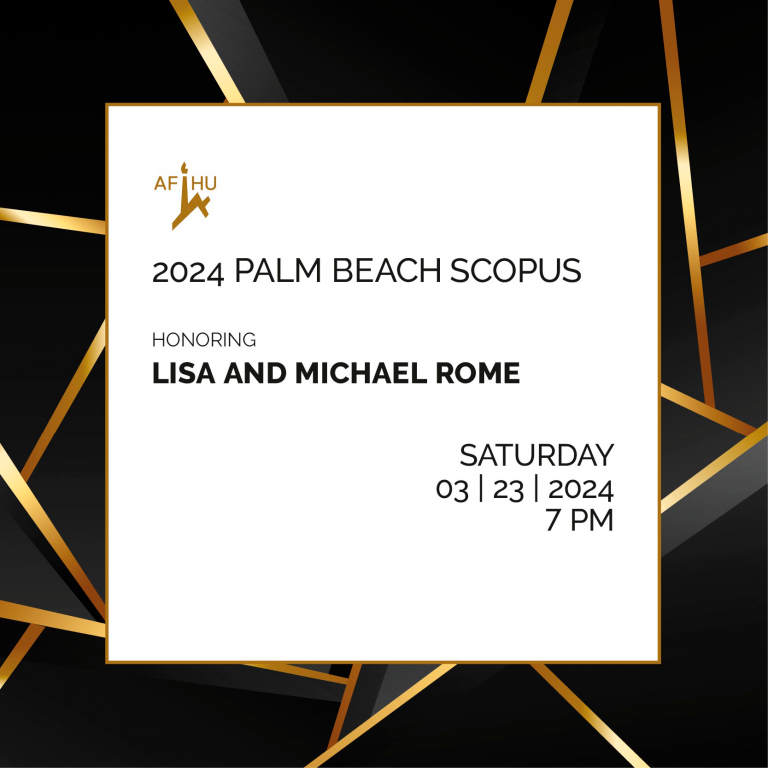 Please join us on Saturday, March 23, 2024, for the 2024 Palm Beach Scopus, honoring Lisa and Michael Rome.
This is a night you will not want to miss.
Your participation will support the new Center for Computational Medicine at the Hebrew University of Jerusalem and will help ensure that the university continues to be on the cutting edge of medicine, establishing Israel as a global leader in biomedical research and treatment.
For more information, please contact Monica Loebl, National Director of Development, at 305.336.5775 or [email protected].
We are grateful for your commitment to the Hebrew University and look forward to celebrating its achievements with you.
If you are unable to attend but would like to make a tax-deductible donation, please click here.
*Please be aware that the $300 per person registration fee (couvert portion of the ticket) is not tax-deductible.*