Spotlights:
Jasmine Stoltzfus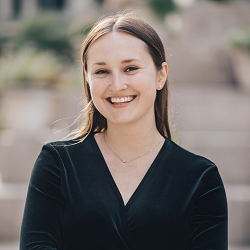 In 2017, Jasmine Stoltzfus left the Golden State where she was a student at the University of California, Davis (UC Davis), to study abroad at the Hebrew University of Jerusalem's (HU) Rothberg International School (RIS), where she participated in the Spring in Jerusalem Honors Program.
As an HU student, Jasmine had an internship at the Center for International Migration and Integration (CIMI) in Jerusalem and conducted independent research; she felt both opportunities were well-aligned with her academic and professional interests.
"My internship at CIMI gave me the opportunity to connect with Israeli professionals and see how issues of human movement were being addressed and discussed in the region." Similarly, her research project, completed under faculty supervision, exposed her to the complex issues faced by East African communities who were seeking asylum in Israel.
While these experiences were probably the highlights of her time at Hebrew University, she is also thankful for the friends she made while studying abroad. Reminiscing on her time at HU, she stated, "I found great diversity among both the student body and international community and was grateful to participate in tours around the region that RIS organized. Along with friends from the program, I ate sweets at night in the Old City during Ramadan, attended an Easter service at sunrise, and enjoyed Kabbalat Shabbat in Haifa."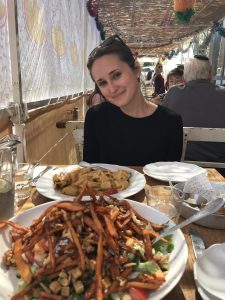 At the end of her semester abroad, Jasmine returned to UC Davis, where she graduated Phi Beta Kappa and with highest honors. She worked in immigration law in the San Francisco Bay Area for two years, before receiving a Fulbright Scholarship to study for her master's degree in Global Security and Borders at Queen's University, Belfast.
Jasmine believes the Hebrew University opened a world of opportunities for her; "My achievements post-graduation are certainly connected to my time in Jerusalem. Not only did I have a great experience in a complex city that I love, but I was also able to tailor my internship and research portions to better position me for life post-graduation."
Jasmine recently visited Israel again and was able to relive experiences she cherished as a study abroad student. She said, "I went back to HU's campus, purchased my favorite hummus at the same little grocery store I frequented as a student and watched the sunset from Binyamin Mazar Street in Jerusalem. If you have the opportunity, go!"