By Diane Hess
For over 100 years, the Hebrew University of Jerusalem (HU) has been a trailblazer in multidisciplinary education, encouraging student and faculty collaboration in various fields of study.
Today, more than ever, it is seeing the fruits of its multidisciplinary focus, which has been formalized in course offerings and programs. In 2018, approximately 65% of the innovations recorded to HU's technology transfer company, Yissum, stemmed from partnerships between academic faculties—such as medicine and engineering, or agriculture and science.
"I think this is an important validator for the hypothesis that the multidisciplinary approach has impacted successes coming out of the university," said Dr. Yaron Daniely, CEO and President of Yissum. "I believe that number is very high compared to other institutions globally."
In the fall of 2018, the Hebrew University announced that entrepreneurship—a hallmark of the Israeli economy and, more broadly, its culture—will be a required class for all students, even those majoring in linguistics or philosophy.
Avner Mendelson, President & CEO of Bank Leumi USA and an HU alumnus, believes in this ethos of multidisciplinary entrepreneurship. "From a real-world corporate and banking perspective, we really see that cross-disciplinary collaboration is key for so many of the Israeli innovators taking their next step in the U.S. market. As a financial institution, Bank Leumi is keenly focused on emerging technologies and supporting commercial ventures in all phases of growth—from addressing the unique needs of start-ups and supporting companies through growth phases, to structuring financial models that help our clients sustain success," he said.  "I strongly believe that the entrepreneurial foundations that HU provides its students equip these future leaders with a practical understanding of how to translate ideas into commercially viable innovations."
The Hebrew University offers many curricular opportunities for cross-pollination. One of its initiatives, the BioDesign Center, takes a collective tact to medical innovation. Created by the Hebrew University and Hadassah Medical Center, in conjunction with Stanford University, it provides teams of medical fellows, bioengineering, and business graduate students the structure to collaborate and commercialize solutions to medical problems.
"These students are the best physicists, chemists, and medical students, and many will be interested in forming a company," said Dr. Zvi Wiener, dean of the Jerusalem School of Business Administration at the Hebrew University. "BioDesign gives them an opportunity to learn how to start a business, raise money from investors, and hire employees."
Dr. Wiener highlights commercial successes of the program, including ThoraXS, a one-handed thoracic portal opener that shortens the time required to insert a tube into a patient's chest from minutes to less than 30 seconds. The technology has been effective in preventing deaths from chest trauma. It was developed by engineering and business students from Hebrew University, along with an internal medicine specialist and pulmonologist from Hadassah Medical Center.
"One of the goals of the business school is to make students more hirable," said Dr. Wiener. "If they have been involved in an attempt to develop a new product, they are much more valuable."
Last month the business school launched a FinTech Center to help students bring machine learning and data analytics technologies to the marketplace. The center offers a mentoring program for computer scientists with experienced entrepreneurs and academics.
"From an industry perspective, multidisciplinary innovations are largely more valuable and attractive than single-disciplinary or classical inventions," said Dr. Daniely. "A technology that combines healthcare with data science, or agriculture with engineering, or machine learning with nanotechnology, is highly sought after in the marketplace."
One of Yissum's companies, Future Meat, received a $2.2 million investment in May from Tyson Foods to develop lab-grown meat. Dr. Yaakov Nahmias, a bioengineering professor and the founder of the company, developed a cost-effective way to grow meat from animal cells in a lab. When he began his research, lab-grown meat cost about $5,000 to produce. He lowered the price to $400 per pound and expects to reduce it further.
"By looking at a problem in life sciences from an engineering standpoint, Dr. Nahmias essentially created a multidisciplinary innovation," said Dr. Daniely. "He applied his skills in one area to a completely different domain; it's a novel approach."
Grail, a healthcare company focused on the early detection of cancer, brought together professors from HU's computer science and engineering department, as well as doctors from Hadassah Medical Center. The company, which has teamed up with Yissum, is creating a method for doctors to screen patients with a simple blood test for abnormal tissue or cell death.
Dr. Shlomo Magdassi, a chemistry professor at the Hebrew University for over 30 years, has lent his expertise in colloids, a type of chemical mixture, and nanoparticles to a host of innovations. He has worked with physicists, biologists, and mechanical engineers on several technologies. Among them, Dr. Magdassi has created solar panels in California using coatings that contain nanoparticles, printed medication that can be customized for individual patients, glass printing technology—he even developed technology to print logos on coffee and cappuccino.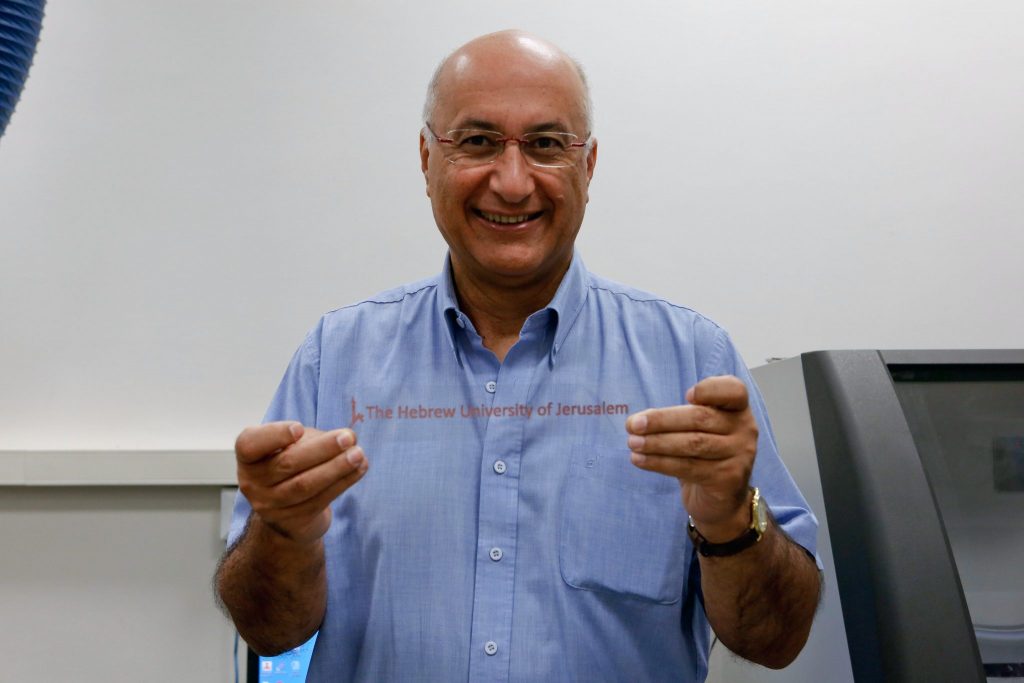 For the past 18 months, Dr. Magdassi has been working with Dr. Oded Shoseyov, a nanotechnology professor at HU who is currently focusing on the molecular biology of plants. With funding from Yissum, their lab results, using waste from wood material, have been successful and they're now investigating commercial applications.
"It's impossible to be masters in everything we do, and we know that we must collaborate," said Dr. Magdassi. "It's the spirit of the Hebrew University."