News:
The Dean of Students Award for Volunteer Community Activities is given to the founder of the Student Forum for LGBT Medicine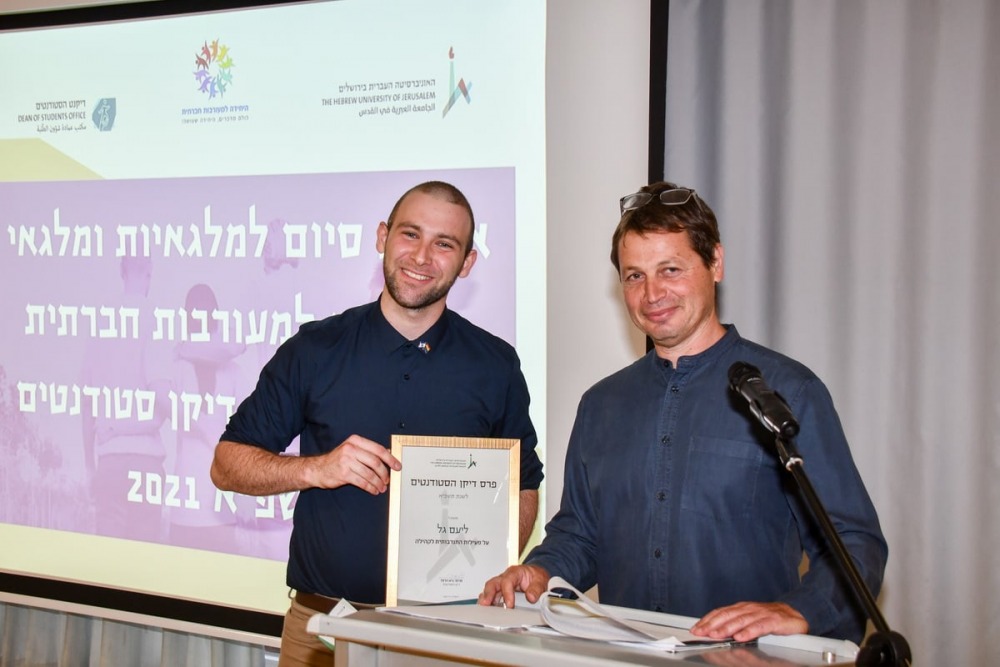 The Social Involvement Unit at the Hebrew University of Jerusalem recently held the Dean of Students Award ceremony for volunteer activities in the community. The event was attended by 200 students from all the university faculties who took part in one of the unit's programs over the past year. At the center of the event was a roundtable discussion of the university's social impact, covering the topics: How can the university leverage its being a meeting place between Arab and Jewish students and enable a common discourse? How can the university give more space and expression to women in the academic and public spheres? How can the university encourage education for democratic values and promote them in society? and more.
Among the recipients of the Merit Awards on behalf of the Dean of Students for Volunteer Activities for the Community was Liam Gal of the university's Faculty of Medicine, who is in his sixth year in the Tzameret track. Liam founded the Student Forum for LGBT Medicine, which aims to raise students' awareness of major issues in LGBT medical care. A first for Israel, the Forum organizes monthly classes for students from the health professions, which are taught by leading physicians in the field, encourages research in LGBT medicine, and raises awareness among practicing doctors. The Forum has raised NIS 10,000 to provide research grants on the subject.
Liam's social activities also include volunteering for the Lavi project, in which Liam plays the trumpet to hospitalized youth at Hadassah Ein Kerem Children's Hospital in Jerusalem. He was also the coordinator of the gay student fraternity on the Ein Kerem campus from 2017 to 2019.
"Liam Gal is a student who, noticing that Israeli healthcare did not systemically address LGBT issues, established a project of national magnitude for a change in both awareness and practice," the students at the Hebrew University explained this week, adding that "after a year of challenging work, some of which took place remotely and after the events of May and the resulting tensions on campus, it was uplifting to see the large, face-to-face gathering of students from various cultural communities who spoke together openly, respectfully and seriously and expressed their opinions regarding the impact the university should have on key social issues."
This article is a translation from the original in Hebrew.