Einstein: Visualize the Impossible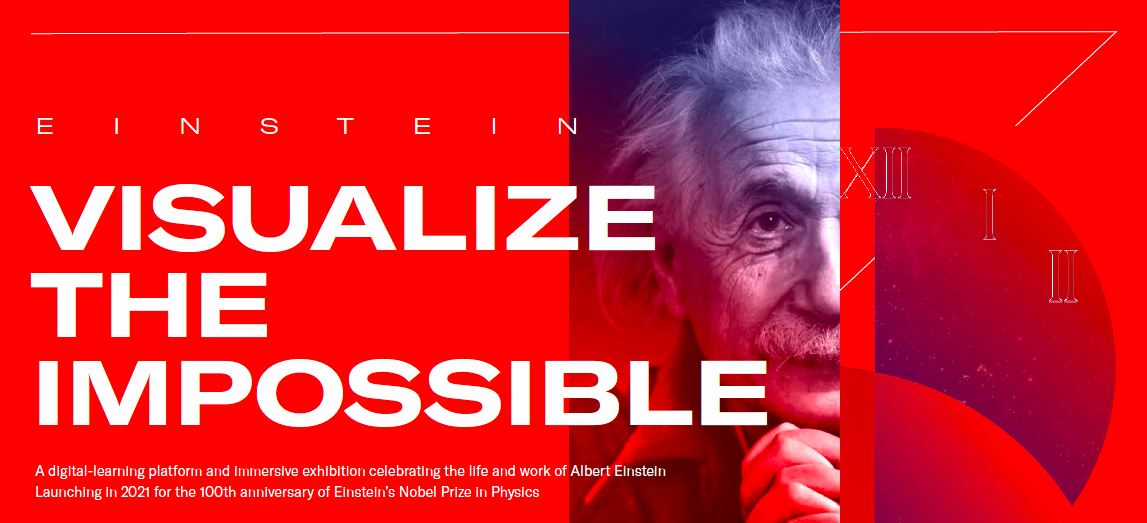 At a time when science has never been more essential for the advancement and improvement of humanity, a team of visionaries has signed on to chart the course of a major platform for a broader understanding of Albert Einstein's contributions to mankind.
The advisory committee convened by The Hebrew University of Jerusalem includes a Nobel laureate in Physics, a Harvard astronomer, the head of New York's Hall of Science, and the foremost authority on Einstein's theories at The Hebrew University of Jerusalem.
"Einstein: Visualize the Impossible" (www.einstein100.com) will be an immersive digital engagement platform, and eventual live exhibition, designed to connect Einstein's scientific achievements with the innovations and applications of the 21st century and beyond.
In celebration of the centennial of Albert Einstein's 1921 Nobel Prize in physics, "Einstein: Visualize the Impossible" lets the public interact with him as both a scientist and a citizen of the world. Visitors will browse through the archive digitally to discover the stories behind his greatest breakthroughs and 'converse' with Einstein himself in an interactive original AI video. They will also explore playful interactive digital spaces, where they can manipulate time and space to understand Einstein's groundbreaking theories of General Relativity, the Photoelectric Effect, E=mc2, and more. The project will be a unique resource for students and teachers of science and history of all ages.
The virtual experience will enhance teachers' ability to spark passion in science, technology, engineering and mathematics (STEM) among students learning in a challenging environment. The traveling physical exhibit is planned for 2022.
A moment of great complexity requires extraordinary vision, creativity, and leadership to tackle urgent global challenges. "Einstein: Visualize the Impossible" will inspire the next generation of scientific innovators and celebrate radical thinking and vision to uncover answers to some of the world's greatest mysteries. From science and technology to culture and humanitarianism, there is no more inspirational symbol of transformational thinking than Albert Einstein.
The advisory board, still in formation, includes:
David Gross, Nobel Prize winner and Chancellor's Chair Professor of Theoretical Physics, UC Santa Barbara
Margaret Honey President and CEO, New York Hall of Science
Avi Loeb, Chair Department of Astronomy, Harvard University
Alan Lightman, Novelist, Physicist, and Professor of Humanities, MIT
Michael Shara, Curator Department of Astrophysics, American Museum of Natural History
David Levin, Entrepreneur in Residence, Arizona State University and Chairman, SparkBeyond
Ann Druyan, Emmy and Peabody Award-winning American writer, producer, and director specializing in the communication of science, co-writer of the 1980 PBS documentary series Cosmos, hosted by Carl Sagan, whom she married in 1981.
Hanoch Gutfreund, Former President of the Hebrew University and Academic Director, Einstein Center and the Albert Einstein Archives
Dr. Christopher Emdin, Director of the Science Education program and Associate Director of the Institute for Urban and Minority Education; Former STEAM Ambassador for the U.S. Department of State and Minorities in Energy Ambassador for the U.S. Department of Energy
The program is curated by the Hebrew University of Jerusalem, in partnership with digital-first creative agency Code and Theory and content development firm M+D.
Dr. Gutfrend noted that Einstein is one of the founding fathers of the Hebrew University of Jerusalem, which is now the home of his archival documents. "The Albert Einstein Archives constitutes an extraordinary cultural asset of universal importance for humanity and of national importance for Israel," he said. "Through the promotion of Einstein's legacy over the years, and through sharing the cultural treasures of the Archives with the scientific community and the general public worldwide, the Hebrew University has become intimately linked with his name. This digital platform will bring the theories, ideas and impact of Albert Einstein to audiences across the United States and around the world. In particular, it will demonstrate to the general public and to its schoolchildren why Einstein is still so relevant today and why he is still so much alive in the public eye."
Ann Druyan said "Albert Einstein opened the 1939 New York World's Fair with a call to tear down the wall between science and the rest of us. What an opportunity this project affords to advance this process, so critical to our survival. At a time when human self-esteem is at a low ebb, Einstein provides an exemplar of our potential."
Dr. Loeb said he hopes the program will inspire future scientists to be bold and take risks. "The paths Einstein took to scientific breakthroughs seem inevitable; they are carved indelibly into the landscape of ideas," he said. "But the ability to spot them first, follow their twists and turns, and keep going when fellow travelers said that he was going nowhere – is the trademark of a truly exceptional scientist."