Partnerships:
A Pioneering Partnership in Nanomedicine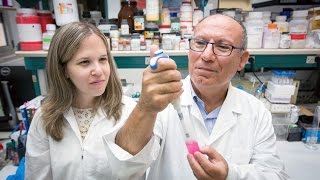 The Hebrew University of Jerusalem and Cleveland Clinic launched an unprecedented partnership to create a virtual Center for Transformative Nanomedicine. These two powerhouse institutions are uniting to harness the potential of nanotechnology to develop effective new medications, therapies, and drug delivery systems.
This pioneering work is designed to tackle global health threats: cardiovascular disease, cancer, and neurological diseases.
"We are honored to join with Hebrew University to advance the emerging field of nanotechnology," said Toby Cosgrove, M.D., CEO, and President of Cleveland Clinic. "The new Center for Transformative Nanomedicine will ensure development of novel therapeutics to improve longevity, enhance patient well-being, make medical care more cost-effective, and provide dynamic solutions to global health concerns."
"Our institutions will leverage resources and begin to combine our scientific knowledge," said Professor Menahem Ben-Sasson, former President of the Hebrew University of Jerusalem. "These powerful interactions will expedite better medical treatments, more rapid, cost-effective diagnostics, and improved healthcare delivery for people the world over."
Cleveland Clinic, the Hebrew University, and AFHU have made a five-year commitment to raising a minimum of $15 million in first-stage funding to establish the virtual center.
AFHU national board member, Victor Cohn, has been the driving force and catalyst for this dynamic collaboration. A passionate supporter of both institutions, Victor Cohn brought Cleveland Clinic scientists to Jerusalem, where they witnessed the university's achievements and capabilities in nanoscience and pharmaceutical development.
AFHU is honored to announce that Victor Cohn and the Cohn family have pledged $2 million to help make the center a reality and enable this life-saving research.
Dr. Geoffrey Vince, Ph.D., chair of Biomedical Engineering at Cleveland Clinic's Lerner Research Institute, and Professor Simon Benita, former Head of the Institute for Drug Research and the School of Pharmacy at Hebrew University's Faculty of Medicine, will lead this important initiative.
Media exposure for this exciting new partnership included feature articles in Crain's Business, the Cleveland Plain Dealer, Cleveland Jewish News, World News Network and JNS.org, among other publications and online news sources.
To learn more and to demonstrate your support for The Center for Transformative Nanomedicine, contact Judith Shenkman, Executive Director Midwest Region, 800‑567‑AFHU or 312-329-0332 ext. 220.