THE ETHIOPIAN FARMERS OUTREACH PROJECT
Civil war in their homeland prompted many Ethiopian Jews to seek refuge in Israel, and rescue programs, including Operation Moses in the mid-1980s and Operation Solomon in the early 1990s, helped grow the Ethiopian-Israeli population to 150,000 people. While younger Ethiopian-Israelis are taking advantage of the opportunities available in modern Israeli society, many of the community's older members lack formal education and have difficulty communicating in Hebrew.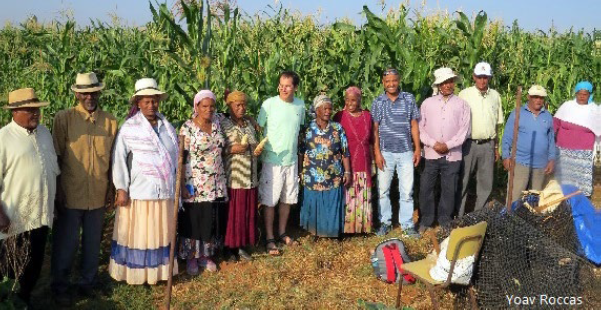 The Ethiopian-Israeli elders originally worked in agriculture, as did their forefathers. When they came to Israel, their physical connection to the land was broken, but many longed to renew it. In 2016 Prof. Alon Samach, of the Robert H. Smith Faculty of Agriculture, Food and Environment, created a unique, mutually beneficial encounter between experienced Ethiopian-Israeli farmers and future agronomists. He was allocated a plot at the Faculty's Joseph Marguleas Experimental Farm and recruited eight Ethiopian-Israeli retirees. Each retiree was allocated a 25-meter strip where they grow crops.
Today approximately 40 farmers regularly work the land and participate in a weekly workshop where they share their knowledge with, and get help from, first-year Israeli undergraduates and international master's students studying with the Smith Faculty of Agriculture.
The Project pairs agricultural students, many from developing countries, with Ethiopian-Israeli elders. They work together on a farm where they exchange knowledge and practices to improve crop production. The program provides students with their first taste of fieldwork, while the elders share their hard-won experience and learn about crops suited to the Israeli climate. Support for this community outreach-educational project will ensure its continuation and help further Hebrew University's Robert H. Smith Faculty of Agriculture, Food, and Environment's mission to advance sustainable agriculture in Israel and throughout the world.
Measurable Results:
Increased participation rates: The original eight Ethiopian farmer participants are still involved and total participation now totals 40, with more individuals expressing interest.
Anecdotal/Qualitative evidence of increased health and wellbeing: The program provides participants with a place to go (they walk to and from the farm), and some participants cite health benefits including weight loss, lower blood sugar levels, and fewer doctor visits. Participants report an improved sense of self-worth, and strengthened ties with peers.
Increased social ties: Although the participants knew each other before the project began, there is no doubt that their participation in the project has strengthened this connection –They formed a WhatsApp group and, during the COVID lockdowns, the program provided a safe place to be outdoors and interact with others.
Cost:
| | |
| --- | --- |
| Support to grow produce on plots for one year (includes water, tools, fertilizer, seeds, insurance, etc.) | $18,000 |
| Support for intergenerational workshops for Israeli-Ethiopian elder farmers, Israeli and international students (includes teacher, teaching assistant, water, equipment, etc.) for one year | $38,000 |
| Support for both parts of the project for one year | $56,000 |