THE 83RD BOARD OF GOVERNORS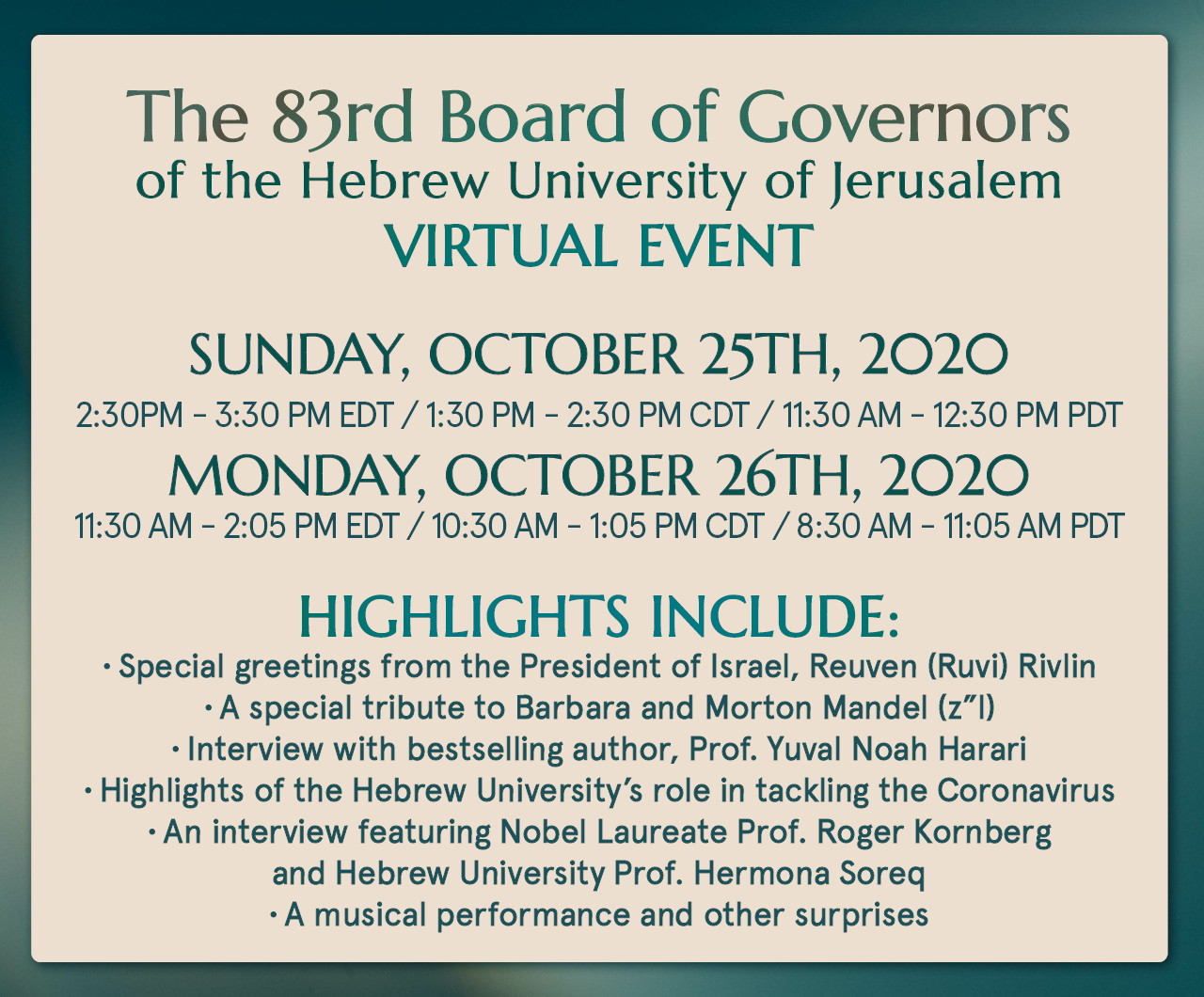 You can find the entire BOG schedule below. To register, please contact Bari Alovis at [email protected]. 
SUNDAY, OCTOBER 25, 2020
STARTING AT 2:30 PM EDT / 1:30 PM CDT/ 11:30 AM PDT
Opening remarks by Romi Noimark, journalist and anchor at the Israeli Public Broadcasting Corporation
Opening greetings from the Chairman of the Board of Governors, Dan Schlessinger, and from the President of the Hebrew University, Prof. Asher Cohen
Special greetings from the President of Israel, Reuven (Ruvi) Rivlin
Video clip: The Hebrew University in the Age of the Coronavirus
Interview with Prof. Yuval Noah Harari on 'The Era of the Coronavirus: Living in a New Reality'
Closing remarks
MONDAY, OCTOBER 26, 2020
STARTING AT 11:30 AM EDT / 10:30 AM CDT/ 8:30 AM PDT
Greetings from HU administration
Report by HU President, Prof. Asher Cohen
A one-on-one interview with Prof. Asher Cohen and Patricia Glaser, a leading U.S. litigator, and a Hebrew University Honorary Doctorate recipient.
A special tribute to honor Barbara and Morton Mandel, z"l
Report by HU Rector, Prof. Barak Medina
Student Life in the Shadow of the Coronavirus: a panel discussion moderated by Prof. Mona Khoury-Kassabri, Dean of the Paul Baerwald School of Social Work and Social Welfare
A virtual tour of the Wall of Benefactors, Wall of Life, Legacy Tree, and Wall of Founders and Trustees
Report by Vice President for Research and Development, Prof. Re'em Sari
Interview featuring Nobel Laureate Prof. Roger Kornberg and HU Prof. Hermona Soreq
French philosopher and HU Honorary Doctorate recipient, Prof. Bernard Henri Levy will be interviewed by HU Vice President, Amb. Yossi Gal, followed by a surprise!
Closing remarks followed by a musical performance by Bo and the HUJIs, a group of researchers who combine science and medicine with their love of music.