Elaine and Beno Michel MD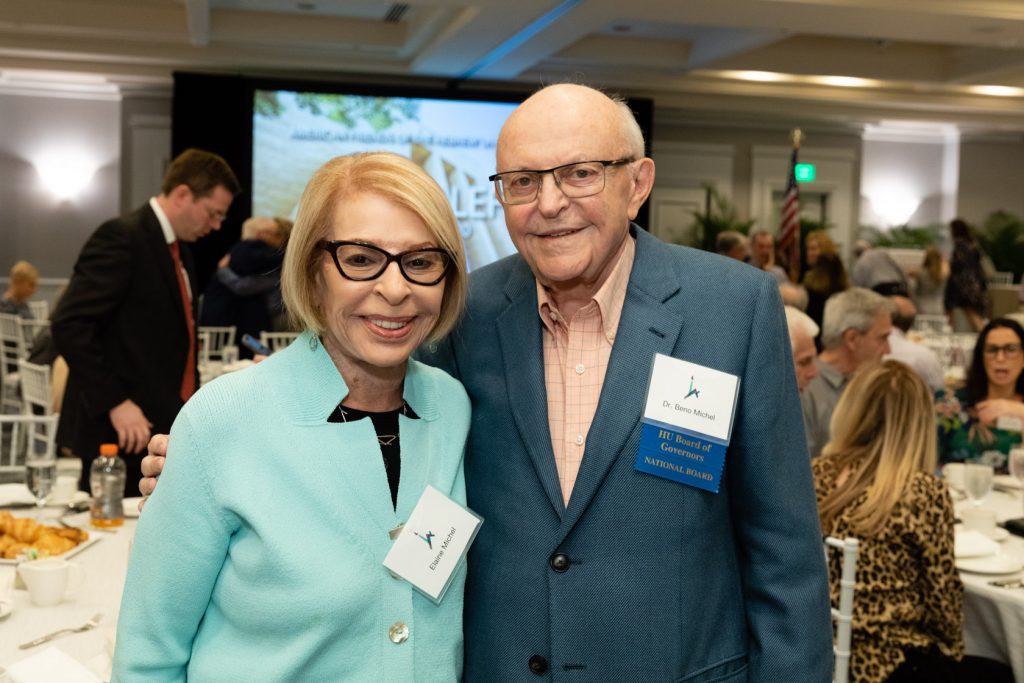 For Beno Michel, a lifetime's commitment began with a knock on the door: "It was about 50 years ago. I was serving on the faculty Case Western Reserve University (Beno is a noted Clinical Professor of Dermatology and Assistant Clinical Professor of Pathology), when my wife got a call from the World Affairs Council asking if we could host an Israeli post-doctoral student and his family. We agreed, and then,  one Sunday afternoon, we opened the door to find a young man, his wife, and two children standing on our doorstep." That young man was later to become Beno's friend and colleague, HU researcher Yoram Milner (z"l).
As the friendship grew between the families, Beno's relationship with the Hebrew University grew. From working with Dr. Milner to develop a solution to facilitate the transportation of skin cell samples to relocating the contents of his research lab to the Hebrew University, Beno Michel eventually joined the university's Board of Regents and Board of Governors, as well as the AFHU Board of Directors.
Over the years Beno and his wife, Elaine, have been generous donors to AFHU, primarily supporting research at the Hebrew University Faculty of Medicine and scholarships through the Elaine and Beno Michel M.D. Graduate Scholarship Endowment Fund for Molecular Biology. Beno was instrumental in developing the Faculty of Medicine's ongoing relationship with the Cleveland Clinic, and the couple were honored with AFHU's Scopus Award in recognition of their service to the university.
When it came time to consider estate planning, Elaine and Michel knew they wanted the Hebrew University to be a part of their legacy: "There is no shortage of institutions that need support. The best thing to do is to pick the one that fits your love and passion. For us, the Hebrew University of Jerusalem is that institution."
Supporting the Hebrew University through an AFHU planned gift made sense for them. "Allow me to use a baseball analogy," Beno said, adding," First  base: you impact the life of a student, second base: you generate new research and knowledge for the benefit of humanity, third base: you help the State of Israel, home plate: you help insure the future of the Jewish people. It's a home run!"