News:
6 top tomato innovations from Israeli experts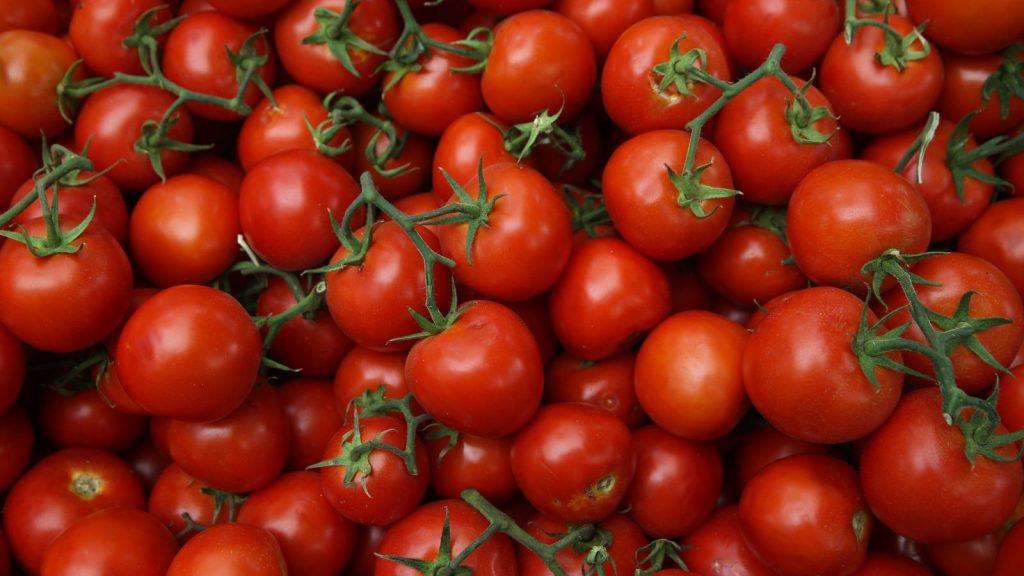 Next time you chop some luscious red tomatoes into your salad or sauce, you can thank Israeli scientists.
Tomatoes didn't originate in Israel, but our agricultural wizards transformed this wild fruit into a flavorful, long-lasting, nutritious, disease-resistant commercial crop enjoyed everywhere as a fresh ingredient and as a source of healthful extracts.
"Regarding tomatoes, Israel is a powerhouse in breeding and development of knowledge," says noted researcher Ilan Levin, head of the Plant Sciences Institute at the Volcani Center-Agricultural Research Organization.
"Based on the interest of multinational companies in our work, I assume we are among the leading sources of knowledge about tomatoes."
In 2013 (the latest year for which figures are available), Israel produced 421,000 tons of tomatoes. But more significant than the fruit are Israeli tomato seeds, highly prized across the world for the traits they were painstakingly bred to carry.
"We develop seeds that cost more per ounce than gold, and they depend on local knowledge," says tomato expert Prof. Haim D. Rabinowitch of the Hebrew University's Institute of Plant Science and Genetics in Agriculture. "Seeds are knowledge. Everything I know is embedded in the DNA of the seed."
At the conclusion of US National Tomato Month (October), ISRAEL21c brings you six fascinating facts about Israeli tomato innovations of the past, present and future.
1. The truth about cherry tomatoes
We asked the man known as one of the "fathers" of the cherry tomato: the aforementioned Prof. Rabinowitch of Hebrew University.
In the 1970s and 1980s, Rabinowitch and Prof. Nachum Kedar (now deceased) caused a global revolution with the very first extended shelf-life tomatoes. Next, they used genetic know-how to reinfuse the wonderful flavor and aroma of tomatoes that had been lost through earlier breeding programs for disease resistance and heirloom traits.
And then they set their sights on the coin-sized cherry tomato, originally a South American weed. It was domesticated up until then primarily as a European and American backyard plant.
"Cherry tomatoes were tasteless and had no shelf life, so they couldn't be made into a commodity until Nachum Kedar and I introduced better breeding for flavor and long shelf life," Rabinowitch tells ISRAEL21c.
This breakthrough made the cherry tomato mass-marketable in the Western world for the first time in history.
These Israeli scientists also introduced cluster cherry tomatoes that are picked like bunches of grapes, because picking single cherry tomatoes is slow, expensive and labor-intensive.
2. Love that lycopene
Lycopene is a powerful antioxidant beneficial for the heart, blood pressure, prostate, bones and skin. Our bodies absorb lycopene best when we eat tomatoes mixed with something oily, like olive oil or cheese.
The multinational company Lycored was founded in Beersheva in 1995 to produce lycopene-rich oil from extracts of locally grown tomatoes.
Today, Lycored sells natural colorings and extracts in North America, Europe and Asia for dietary supplements and health indications, sourced from tomatoes grown in Israel and California using Israeli seeds.
Lycored CEO Rony Patishi-Chillim tells ISRAEL21c that the company worked with Hebrew University scientists to cultivate a unique variety of non-GMO tomatoes with higher lycopene content using genes identified at the Volcani Center.
The company has sponsored ongoing studies at Ben-Gurion University of the Negev to reveal the benefits of tomatoes alone and in combination with, for example, rosemary or olive oil.
Newest research indicates that health-enhancing effects may come from the synergism of various elements of the tomato, not lycopene alone. "We are now specializing in carotenoids in general, of which lycopene is one," says Patishi-Chillim.
Lycored is experimenting with varieties such as golden tomatoes, which contain phytonutrients that protect skin from UV radiation. "We may combine them with typical tomatoes or use them as a standalone," she says.
3. Pamper your face with tomato
The flavors and fragrances giant recently introduced PhytoflORAL, a pure tomato powder-derived ingredient ready to be put in capsules, chewable tablets, drinks or pre-mix sachets meant to improve skin health and tone.
The patented cosmeceutical product — composed of a proprietary derivative of non-GMO tomatoes rich in the colorless carotenoids phytoene and phytofluene — was developed at Israeli Biotechnology Research, a company acquired by Frutarom last February.
Clinical data show that ingested carotenoids accumulate in the skin, delivering protection against oxidative damage and sun exposure, as well as brightening and evening out the complexion, inhibiting the development of age spots and reducing inflammation and DNA damage.
4. Cracking the code of a tomato virus
For the past three decades of its nearly 100-year existence, the Volcani Center has focused on pre-breeding research that has become internationally renowned.
"We look for positive traits such as disease resistance and use genomics and bioinformatics to develop very efficient ways to introduce these traits into elite cultivars," says Levin. "Then we give the information to the seed companies to produce elite tomatoes resistant to diseases."
International seed companies, some of which have R&D centers in Israel, make use of Israeli discoveries to enhance tomato flavor, nutritional profile and disease resistance.
For instance, Volcani researchers identified tomato genes that contain more fructose than glucose. "Fructose tastes twice as sweet as glucose," Levin explains.
Levin and fellow Volcani scientist Moshe Lapidot are generating industry buzz for their research on cultivars resistant to the tomato brown rugose fruit virus (TBRFV), which is fast spreading across the world. TBRFV does not affect human health but it causes a 50% reduction in yield and the infected tomatoes are unattractive.
They discovered a new source of resistance and are also identifying the gene that controls TBRFV resistance, says Levin.
5. Keeping pests off tomatoes without chemicals
Agriculture experts are constantly looking for ways to keep insects and pathogens away from crops while reducing the need for chemical sprays.
One strategy is to breed varieties that resist certain diseases.
"We incorporate eight to 10 different genes in all today's tomatoes that give them a built-in resistance mechanism so you don't have to control the pathogens with chemicals. But there are still more pests than resistances," Rabinowitch tells ISRAEL21c.
Other Israeli methods to keep bugs off tomato plants include dense netting; sticky yellow and blue plates (these colors attract insects); and a particular shade of blue light to prevent a specific mildew.
"There are many tricks in our book," says Rabinowitch. "But some insects, bacteria and fungi survive the chemical warfare, and viruses cannot be controlled by pesticides. So we try to load the tomato varieties with many genes for resistance."
6. Helping tomatoes survive climate change
Tomato scientists like Levin and Rabinowitch are very troubled by the looming effects of global warming.
"If you pick a mature, green ripe tomato and put it on your counter at room temperature, it will turn red. But if you put it in an incubator at a temperature above 30 degrees [Celsius] it will never turn red because that's above the maximum temperature for the biosynthetic process of lycopene [the tomato's red pigment]," says Rabinowitch.
If the surrounding temperature is above 29, a tomato flower will neither develop properly nor set fruit. And even slight increases in temperature vastly accelerate the lifecycle of insects.
Accordingly, Israeli researchers are developing tomato seeds that withstand extreme heat and other problems caused by climate change, such as increased carbon dioxide levels and higher water salinity.
Because pests constantly mutate and new pollutants appear, this line of work will be keeping Israeli tomato scientists busy for many years to come.
January 13, 2023–While desalination has helped Israel meet and even exceed its clean water requirements in recent years, a new study in Nature NPJ Clean Water led by Hebrew University of Jerusalem researchers indicates that rising population levels are likely to place unprecedented stress on
Read More