News:
Prof. Sergiu Hart to receive Israel Prize in economic research, statistics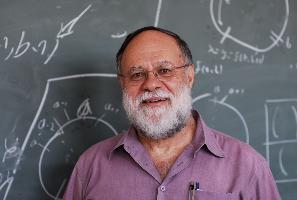 Prof. Sergiu Hart of The Hebrew University of Jerusalem will be awarded the Israel Prize for economic research and statistics, the Education Ministry announced on Thursday.
Education Minister Naftali Bennett approved the recommendation of the prize committee headed by Prof. Yoav Benjamini.
In its decision, the prize committee called Prof. Hart – a former president of the World Association of Game Theory and member of the Academy of Sciences of Israel, Europe and the United States – one of the world's leading economists.
"Prof. Hart specializes in the field of game theory and its comprehensive implications in various economic fields. Among other things, it has an important contribution to the understanding of the convergence to market equilibrium, the value of a player in the game, how cartels are created in the markets and the development of objective risk indices," the committee wrote.
In recent years, it added, Hart's research has focused on "designing mechanisms such as tenders, which are important in online trade."
Hart was born in Bucharest, Romania, and immigrated to Israel at the age of 14 along with his family. After serving in the IDF, he received undergraduate and graduate degrees from Tel Aviv University in mathematics with honors before completing his post-Doctoral studies at Stanford University in California.
In 1991, Hart founded the Center for the Study of Rationality at The Hebrew University, whose academic committee he now chairs.
"Under his leadership the center became a unique leader in the world in the study of game theory with its implications in a wide range of fields such as economics, statistics, psychology, law, biology, philosophy and more," the prize committee wrote in its decision.
The Israel Prize is largely regarded as the state's highest honor. It is presented annually on Independence Day in a state ceremony in Jerusalem attended by the president, the prime minister, the Knesset speaker and the Supreme Court president.