Partnerships:
Thomas Jefferson University and HU's Faculty of Medicine pledge cooperation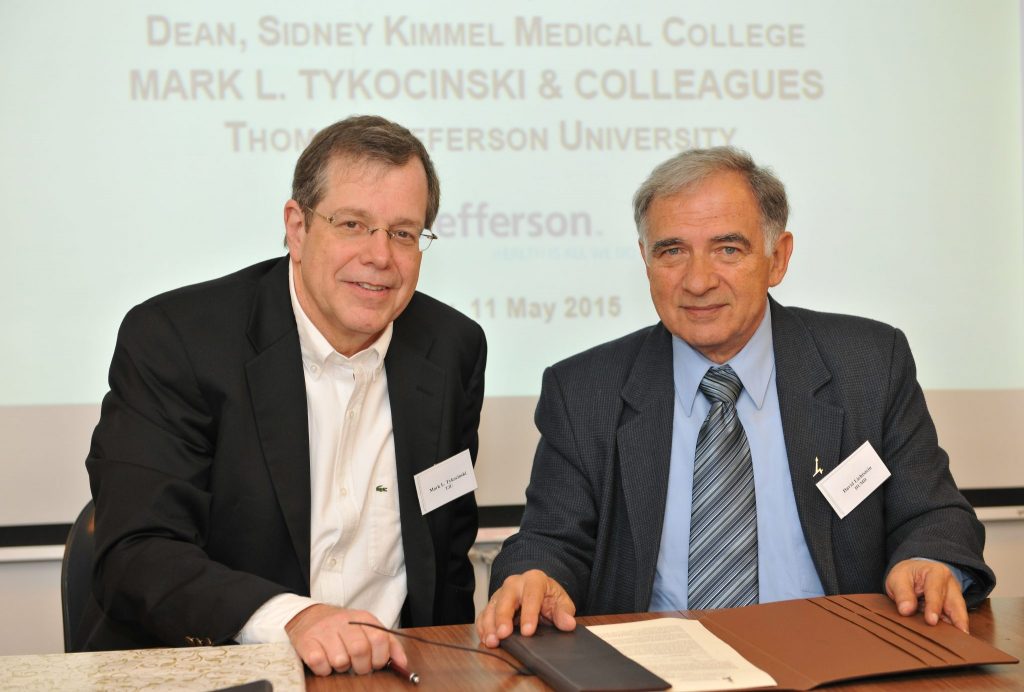 Two leaders in medical research and health care delivery pledged cooperation, as a delegation from Thomas Jefferson University and its Sidney Kimmel Medical College in Philadelphia visited the Hebrew University of Jerusalem's Faculty of Medicine in Jerusalem.
During the visit, a Memorandum of Understanding was signed by Professor David Lichtstein, Dean of the Hebrew University Faculty of Medicine, and Dr. Mark L. Tykocinski, Provost at Thomas Jefferson University and Dean of the Sidney Kimmel Medical College.
The agreement calls for the two entities to expand scholarly ties and facilitate academic cooperation. In addition to promoting the exchange of academic staff, research fellows and students, the universities will seek opportunities to cooperate and collaborate on scientific research.
Professor David Lichtstein, Dean of the Hebrew University Faculty of Medicine, said: "I want to thank our esteemed colleagues at Thomas Jefferson University for initiating this important relationship. To advance science today we need collaboration and partnership between top universities and research institutions. As we have seen in today's meetings, there are fields where our two institutions are parallel and can pursue joint ventures, and fields where we are complementary to each other. We look forward to building a fruitful collaboration."
Dr. Mark L. Tykocinski, Dean of the Sidney Kimmel Medical College, said: "The Hebrew University is one of the world's leading research institutions, and it's a privilege for Thomas Jefferson University to be forging this alliance. It's apparent from just the tiny sampling we've seen today of the science going on at both institutions that there is a huge potential for synergies. So I look forward to beginning this collaboration and we look forward to inviting you to Philadelphia and to continuing this exchange."