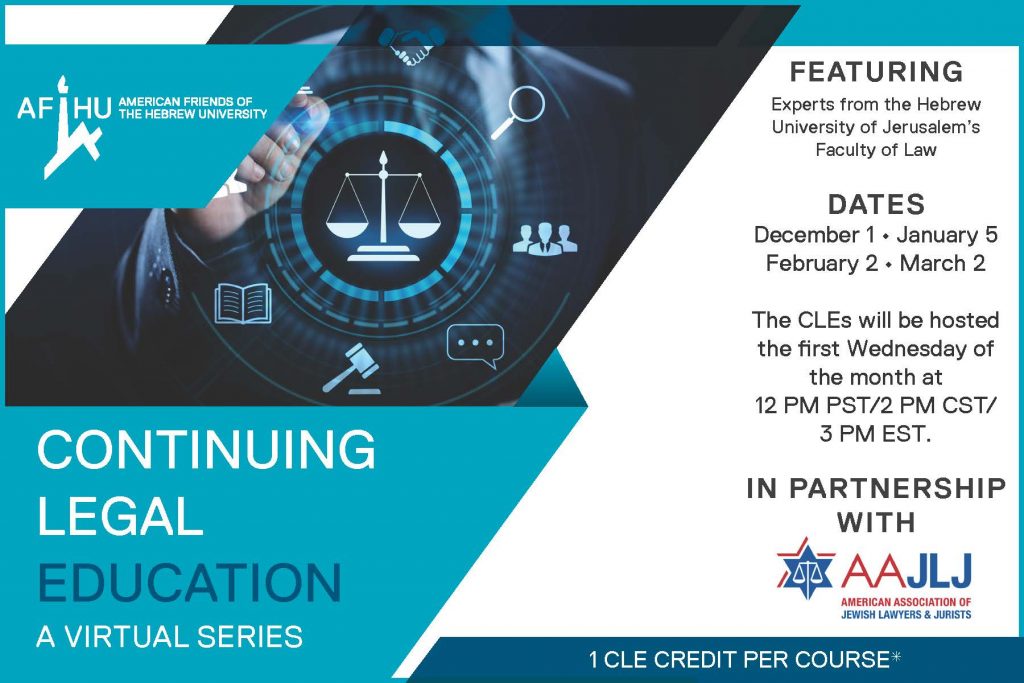 The American Association of Jewish Lawyers and Jurists (AAJLJ) and American Friends of the Hebrew University (AFHU) are pleased to present a six-month Continuing Legal Education (CLE) series.  The CLE series will be taught by world-renowned professors from the Hebrew University Faculty of Law and will be free to attendees.
The CLEs will be hosted the first Wednesday of the month at 12 PM PST/2 PM CST/3 PM EST and will run through 03/02/22.
* Attendees in CA, FL, IL, NY, NV, PA will receive one CLE credit per course with reciprocity including AZ, CT, NJ. CLE certificates will be received 10 – 15 business days after the class.
For questions please contact Alison Warshal, Western Region, at [email protected] or 310.843.3100. You will receive a Zoom link to the session(s) you have registered for from AFHU CLE SERIES via Zoom within 24 hours of registration. 
Reviving Jewish Law in a Modern Democratic State: An Ambitious Israeli Project featuring Prof. Benjamin Porat
Wednesday, December 1, 2021
Jewish law is the national religious legal system of the Jewish people. Finding the right place for Jewish law in Israeli law is one of the fundamental challenges of the legal system of a "Jewish and Democratic State". The purpose of the Mishpat Ivri project is to enrich the Israeli legal system through the treasures of Jewish law tradition.
International Human Rights Law and the Fight Against Online Antisemitism featuring Prof. Yuval Shany
Wednesday, January 5, 2022
The lecture evaluates, through the lens of international human rights law, some prominent features of the discourse concerning the legal regulation and mechanisms aimed at curbing online antisemitism and other forms of hate speech. Utilizing international human rights law as a point of reference offers a broadly accepted critical perspective for evaluating the hate speech policies of technology companies that operate on a global scale, as well as for assessing the propriety of the regulatory efforts undertaken by national governments. As history shows, regulatory efforts undertaken by national governments have often gone too far in limiting freedom of expression.
Heuristics and Biases and Court Decision Making featuring Prof. Doron Teichman
Wednesday, February 2, 2022
This talk will present an overview of a wide body of psychological literature documenting the impact of different heuristics and biases on court decisions. Among other things, the talk will discuss how irrelevant factors might impact sentencing decisions and damage awards, how context alters the way judges evaluate the case, and whether factfinders can ignore inadmissible evidence.
Copyright and the Holocaust featuring Prof. Michal Shur-Ofry
Wednesday, March 2, 2022
Does copyright law play a role in shaping the collective memory of the Holocaust? Should ordinary copyright protection apply to writings, music, and art created by victims in the shadow of genocide? To Nazi documentation and propaganda materials? This talk, describing a large-scale research project by Profs. Michal Shur-Ofry and Guy Pessach, address these questions and unravel complicated relations between copyright law and the Holocaust.