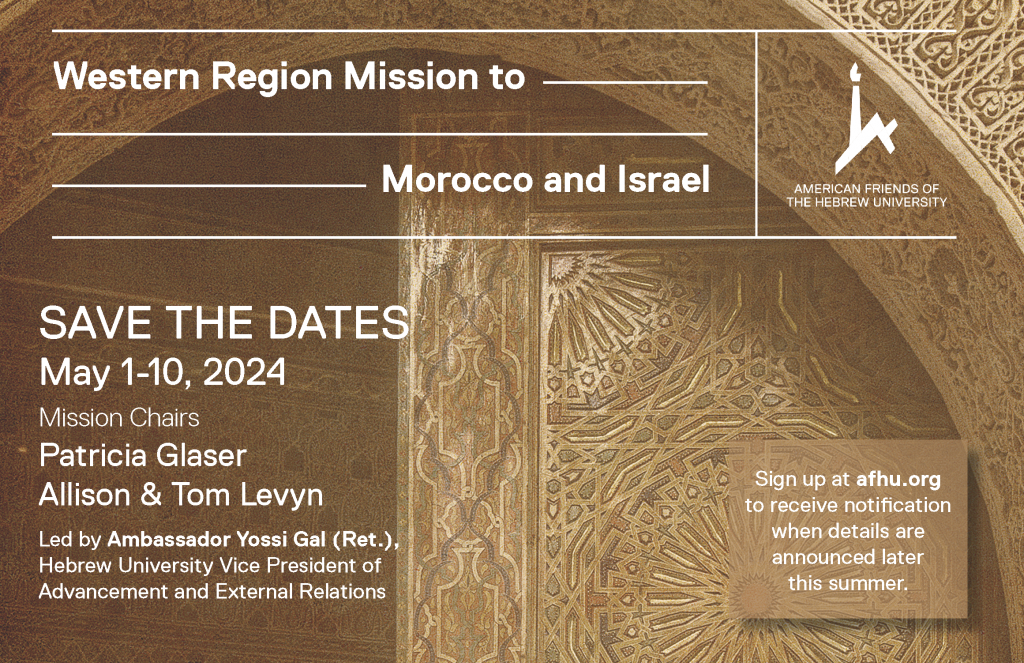 Join us for an adventure of a lifetime
Led by Ambassador Yossi Gal, Hebrew University of Jerusalem
Vice President of Advancement and External Relations
Co-Chairs
Patricia Glaser and Allison & Tom Levyn
Cordially invite you to join the
Western Region Mission to Morocco and Israel
Please save-the-dates
May 1-10, 2024
Marrakech
Atlas Mountains
Casablanca
Rabat
Tel Aviv
Jerusalem
From the heights of the Atlas Mountains to the bustling Medina of Marrakech, join us on an adventure of a lifetime as the American Friends of Hebrew University travels to Morocco and Israel.
Uncover the ancient heritage of Morocco's Jewish community.
Waft the fragrant air filled with jasmine and local spices as you take in the masterful mosaics and breathtaking architecture of ancient mosques and riads.
Follow in the footsteps of Yves Saint Laurent, Pierre Bergé, and Jacques Majorelle as you stroll through lush, exotic gardens and dine amid lemon trees and olive groves: the perfect alchemy, the Moroccan art of living.
Unlock your sense of wonder with incomparable experiences while exploring Israel like never before.
Meet royal dignitaries, cultural leaders, and influencers while witnessing first-hand how Israel's leading academic and research institution is transforming Israel and positively impacting the world.
Bond with friends (new and old) to return home with a vibrant community and memories you'll cherish forever.
For additional information, please call our office at 310.843.3100 or email [email protected].
Sign-up below to receive notification when details are announced.