AFHU 2020 Mission: Rhine River Cruise & Jerusalem Journey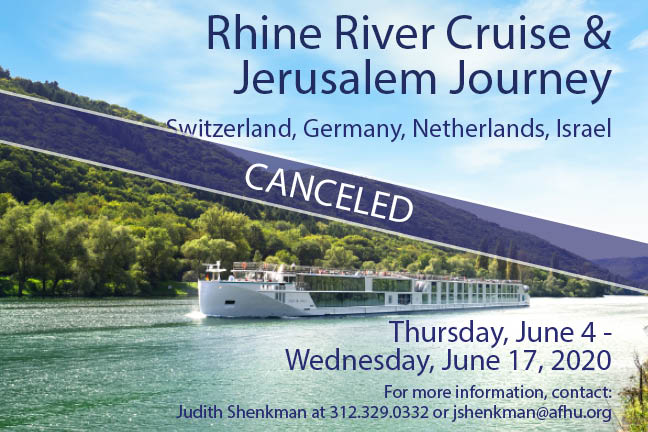 As a prelude to the Hebrew University of Jerusalem 2020 International Board of Governors (BOG) Meeting (June 12th-17th), we invite you to join us for a special AFHU Mission from June 4th-11th.  Our luxurious eight-day Rhine River Cruise will take place aboard the elegant Crystal Bach. On June 4th, we launch from Basel, Switzerland, a landmark city known for its iconic art and design, visiting five port cities along the Rhine River, and disembark in Amsterdam, where we will explore Jewish heritage, accompanied by friends from the university. In addition, AFHU is arranging for a pre-cruise option in Basel at the beautiful Les Trois Rois, site of the 1897 World Jewish Congress where Theodor Herzl put forth the vision for modern Zionism and the State of Israel. On June 11th, we fly to Israel to spend six days at Jerusalem's historic King David Hotel. Please note, BOG membership is not required; all are welcome to attend the special events surrounding the BOG meeting in Jerusalem.
Space onboard the Crystal Bach for our AFHU group is limited to 20 guests, so we encourage you to secure your reservation as soon as possible. The cost of this memorable experience is $12,750 (per person with double occupancy). The Crystal Cruise experience provides unparalleled amenities including luxury cabin accommodations, gourmet dining, butler service, excursion choices in every port, plus the company of congenial friends. The Israel portion of the Mission includes a half-day at Cramin spa in Jerusalem, City of David archaeological tour with a Hebrew University scholar, 5-star accommodations at the King David Hotel, Board of Governors registration and programs, all meals, and VIP airport transportation. We hope you will consider taking this unique trip with us.
Click here to view a full list of excursions.
For more information, contact Judith Shenkman at 312.329.0332 or [email protected]. 
The Crystal Bach is a luxury ship, with limited space, designed for elite scenic cruises. All-inclusive Crystal cruise voyages offer spacious river view cabins, excursion options in every port, fine dining, complimentary wine and spirits, butler service, and gratuities.