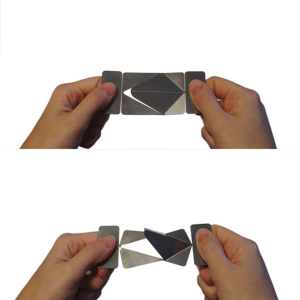 Reader Submitted: This Student Merged Science and Design to Produce a Joint System with Endless Opportunity
8.24.17
PRINT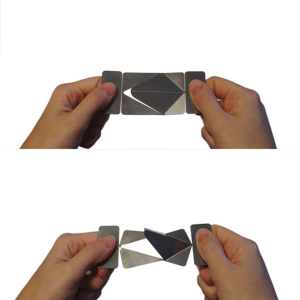 Reader Submitted: This Student Merged Science and Design to Produce a Joint System with Endless Opportunity
8.24.17
PRINT
Flat surfaces with carefully planned cuts—with a single motion their purpose is revealed.
I graduated from a unique joint program for Computer Science at The Hebrew University and Industrial Design at Bezalel Academy. My project is a result of my studies, combined scientific research with aesthetics and leaves an opening to variety of potential applications.
My fascination of using mathematics as a tool to enhance design led me to the development of a new design and production form based on auxetic structures. Auxetics are structures or materials that when stretched, become thicker perpendicular to the applied force. This structure serves as the basis for planning cuts that provide the flat sheet with its potential third dimension.
Design Team
Designer: Tamar Levy
Advisor: Tal Gur
Stainless steel hanger
Oded Antman
Kinetic bamboo Bag
Oded Antman
Kinetic bamboo Bag
Oded Antman
Kinetic bamboo Bag
Oded Antman
Textile partition – detail
Hanger – stretching manipulation
Kinetic bamboo Bag
Hanger
Oded Antman
Textile partition
Oded Antman
Textile partition
Oded Antman
Textile partition
My project, guided by Tal Gur, was a process of cutting style development, transforming from 2D to 3D and exploring behavior of various materials under deformation. The cuts are made using common techniques and technologies, while abiding to two central constraints: minimize material loss and create the ability to transform the two dimensional form into a three dimensional structure in a single manipulation.
Designing the complex auxetic geometries was fraught with obstacles. By treating the pattern design as an algorithmic problem, I built an auxetic pattern rule-based system. The process led to various discoveries. For example, when the pattern is enclosed with an uncut border (see image…) the direction of expansion is upwards and is receives a three dimensional form. In addition, it became clear that there were three parameters that influenced the sheet's behavior: material, geometry and transition method. While with textiles and layered materials the transformation can be repeated, with metal it is irreversible. The method of the transition between dimensions can be created by various forces which gives the object special characteristics. On the one hand, external physical forces, such as electromagnetic field or gravity. On the other hand, manual forces like stretching, pulling or pushing.
Potential applications of these forms could be done in different disciplines and varying scales, from medical stents to architectural structures. As a result of my research, I chose to demonstrate three applications that best show the production method capabilities from different angles. In a manual motion, the piece of metal stretches and becomes a hanger. Under gravity laws, the parametrically designed textile partitions receive a three dimensional transformation. The wooden bag reacts to its varying content volumes and to hand movement inside.